Paper Trimmer
Beginner Scrapbooking Tools
Some of these Beginner Tools you may already have. However, you may not have a good Paper Trimmer or Cutter with a nice sharp blade.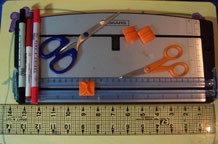 Paper Trimmer - or Scrpabooking Paper Cutter to cut a straight line. There are several kinds of these and they vary in cost from $10 to $200 depending on the features, size and weight. The smaller lighter ones do a great job of cutting paper, card stock and photos. The larger heavier ones will cut chip board and matte board as well.

Mine cost about $15 and is probably my most used Scrapbooking Tool and I don't think I could ever live with out it.


There are three basic kinds.
Some have a cutter arm that is guided down to cut the paper - that's called a
Guillotine Cutter
.
These paper trimmers usually have has a metal base with a spring-action type metal blade, many with a paper clamp to hold the paper in place. Most have inches and or metric grid scale for easy measuring. Some also have various safety features like a latch to hold the guillotine handle in place and finger guards.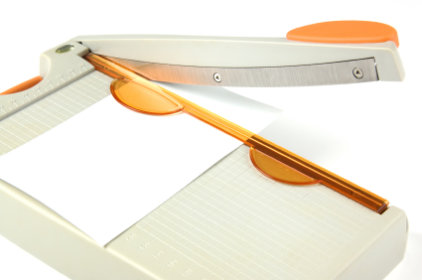 ---


Some have a bar that holds a roller blade called a Rotary Trimmer.

The rotary cutters have revolving blades that are self sharpening and enclosed in a plastic housing that helps prevent bodily injury. Often there is a built-in pressing apparatus to reduce slippage and to protect fingers. The often have a number of interchangeable snap in blades — to produce wavey, straight, and perforated cuts which are relatively quick and easy to switch out. They also have rulers and grid lines for easy measuring.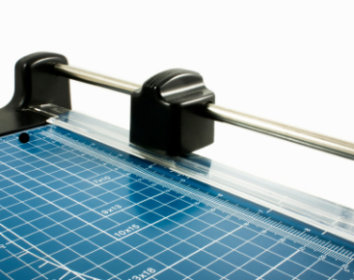 ---


Other Scrapbooking Paper Cutters have a bar the comes down over the paper where you want to cut and you slide the cutter blade up and down the bar. These are the smallest of the paper trimmers, are very portable, usually made of a sturdy plastic and are great to take to crops.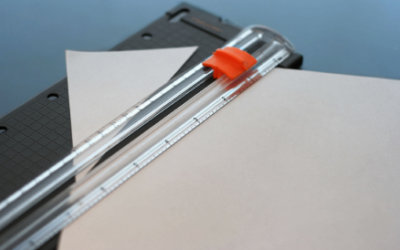 ---


They are made by several manufacturers, and come in sizes that will cut 12" wide and some that are made to cut only up to 6" wide (great for trimming photos). I have a very light weight one that will hold a sheet of paper that is 12 inches wide but worked for years with just the smaller one.

When you purchase any type trimmer, check to make sure the blade is either self-sharpening or replaceable. I have to replace the blades every so often, but then I use this little trimmer almost every day. The little orange square pieces in the photo above is the cartridge and replacement blade. The standard suggestion from manufacturers is that these inexpensive blades will make about 1000 cuts.

Sharpening or replacing the blades will keep the paper edges you cut clean, sharp and professional looking. You will know when it is time to replace the blades as the cut edges of your photos will not be cut all the way through and the cut edges of your papers will be a little fuzzy.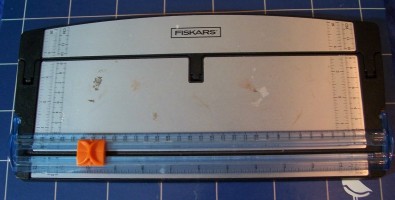 This particular trimmer is made by Fiskars and actually has a 3-hole punch underneath the flap under the brand name. They all have ruler measurements and grid lines. Some will have a pull out ruler bar arm that will allow you to hold the paper up against the edge and measure the width of the paper sheet that you will have when you finish the cut. A good cutter can be one of your most used tools. This is mine and as you can see has been well used, but it has held up through daily use for several years.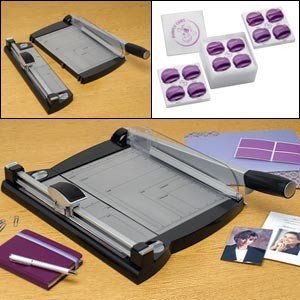 This particular trimmer by Purple Cow is actually a combination of the Guillotine and Rotary trimmers in a two-piece unit. And if you are fond of purple, it's a added bonus. This one comes with 12 different cutting blades for all sorts of different shapes.

You will love the amazing engineering of the Purple Cow Cutters that have a patented safety blade to prevent accidents; folds up for easy storage; scores, perforates and cuts, with up to 12 cutting patterns - it even allows you to tear.

It also has a freestyle mouse for freehand cutting. The removable cutting bar can be repositioned for angled rotary cutting. Cutting blades can be stored in the cutting base. The removable cutting mat features an embossed grid design for accurate trimming.


Check out this great video demonstration of the Purple Cows 2 in 1 Combo Paper Trimmer in action.


Click here to go to our Scrapbook Paper Cutters & Trimmer Store
with the special section on Purple Cows.

Back to Scrapbooking Tools from Paper Trimmers

Go to Scrapbooking Tools - Intermediate

Go back to Home Page for general Scrapbook Advice