Favorite Scrapbooking Sites
Here are some links to my Favorite Scrapbooking Sites that carry some of the products I use most in my Scrapbooking activities.




Scrapbook Kits & Paper
For
Paper, Rubber Stamps, Embellishments, Monthly Kits and even Tutorials
(basically everything):
Club Scrap.com
A majority of the page layouts you will see throughout my website use all or portions of the Club Scrap kits. They are one of my special scrapbooking sites. I have been a member since 2001 and have always loved the kits I have received.
For
Paper and Embllishments galore
:
Scrap Your Trip
At ScrapYourTrip, they specialize in theme specific scrapbook supplies! They have travel, sports, wedding, military, and Disney scrapbooking items, and much more!
Another one of my Favorite Scrapbooking Sites is
Scrapbook.com
. I have been purchasing from this on-line superstore since 2001 when I first discovered them on-line. With limited local scrapbook stores in my area, I was always able to find just what I needed with them. They are large enough to have the brand new products often before your local store gets them. They have a color matching service and when you shop or make an order you can view videos of the new products and see projects that have used the products.
Click the banner below to check them out.

For
Stunning Hawaiian Paper, Embellishments, and Rubber Stamps
direct from Hawaii with quick delivery time:
Island Paperie
Art Supplies
I have also been purchasing from
Dick Blick Art Materials
for a number of years, initially when I discovered they had paper I could use in my 12 x 15 scrapbook albums. Then I discovered they have everything you might need for your art projects.
Check the banner below to check them out.

Digital Scrapbooking
For
Digital Scrapbooking
:
Memory Book Architects
I did a great deal of research prior to deciding on how I was going to do Digital Scrapbooking and I finally purchased this method. You can go to my other website Memory Book Architects and actually start using this digital method for free.
If you have any questions on how to do this, there are Tutorials or just click on Contact US form on the Nav Bar on the left.
Rubber Stamping & Die Cuts
For
Rubber Stamping
check out
Michael Strong's series of Cloisonné Stamps
at:
Michael Strong Stamps.
These uniquely designed stamps can be stamped & embossed and then cut apart to form some different images. I like trying to see what else I can make from his stamp images.
For some of the most beautiful and elegant stamps I have ever seen, check out
Heartfelt Creations!


I discovered this company at a Stamp Show in 2010 and they immediately became on of my favorite scrapbooking sites. Their beautiful and elegant designs of stamps, matching dies, paper piecing and paper molding techniques have me creating cards that always make the receiver feel very, very special. And of course I make scrapbook pages from their products as well.

From their Wednesday Blog posts and videos, I have learned how to make very elaborate cards with ease. I have surprised myself!




Stamping Inks
For
Inks
with brand names
Ancient Page, Color Box, Crafters, Fluid Chalk, Top Boss, Vivid and several Watermark Options
:
Clear Snap
Sprays, Paints and Bling
For
Glimmer Mist
including a DVD, Tutorials and a Newsletter:
My Tattered Angels
For Fonts:
1001 Free Fonts
,
Acid Fonts
, or
Fonts.com
Favorite Scrapbooking sites for Ideas
For
ABC Lists and Page Ideas
arranged by Topic:
ABC Lists at Denny's Poems & Quotes.com
Personalized Military Scrapbook Embellishments
For your
Military Scrapbook Albums and pages
, purchase some really neat custom made
Dog Tags
Tools
For the
Scor-It-All Tool
:
Scor-It-All Tool
Here you will find a wonderful video on how to use the Scor-It-All board to score, emboss, deboss, make accordian folds, and various projects throughout the website for making boxes, bags, envelopes, cards, invitations and other items.
For the
Kaleidoscope Kreator Software
:
Kaleidoscope Kreator
Here you will find not only various software options, but packages of fabric sheets, Swarozki Hotfix Crystals and applicators, along with assorted packages of pre-printed Kaleidoscope Stickers.
Photo Printing Services
For
Photo Developing using that special Pearlescent Metallic Finish
:
MPix
- Mpix also has a great variety of items like Wall Clings, Statuettes, Books and Calendars.
My latest of the Favorite Scrapbooking Sites is
Groovebook
for a quick & easy way to have the photos on your phone printed out. Check out
Groovebook.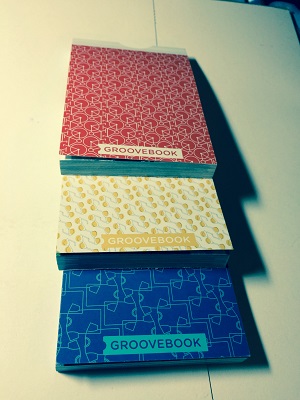 Once you download the app, for $3.99 plus sales tax, once a month on the date you initially sign up, you will be able to designate 100 photos from your phone to be printed and sent via USPS bound in a small book. That's it! That easy!

Don't have 100 photos? You can also make duplicates & triplicates and hand them out to your family and friends.

I originally found Groove Book in 2014 on a Shark Tank episode and in the years since then I have printed over 90 books and have been pleased with all of them. I know, the numbers don't add up, but I had a lot of older photos on my phone and I have been ordering more than one book a month to get caught up. Most of them I put into my scrapbooks for me and my friends, thus they have become one of my favorite scrapbooking sites.




Storage & Organization
For adding some elegant organization to your Craft Room for your Storage needs, check out the beautiful
Craft Furniture, Desks and Storage units specially made for specific scrapbooking and card making items like papers, ink pads, markers, re-inkers, punches, dies and stamps, and all sorts of other goodies
available at
Stamp and Storage.com.
And for all of your
Organization Needs
to keep you photos, tools and supplies, (plus everything else in your life) please check out
Organized Bliss
where
Mary Sean Johnson
, a member of the
National Association of Professional Organizers
has been organizing homes, home offices and corporate offices since 1999. You may have seen Sean as the featured organizer/Designer on
HGTV's Mission: Organization, Strategies and Solutions to Clear Your Clutter, published by Meredith Books.
I hope you will enjoy these links to My Favorite Scrapbooking Sites as much as I have. They have been great scrapbooking resources and I consider them my special scrapbooking sites.
See our Merchandise Stores page to purchse a number of
Scrapbook Tools and items.

Go back to Home Page for general Scrapbook Advice

Go to Layout Gallery from Favorite Scrapbooking Sites