Scrapbook Monthly Kits

I absolutely love Scrapbook Monthly Kits.  In addition to many Scrapbook Page Kits that I purchase, the Monthly Kits are a great resource for doing multiple Scrapbook Layouts with all the papers, embellishments, stamps, inks, stencils, fibers, tags, and brads that match.
When I receive a kit, I like to put together a few layouts which allows me to get very familiar with the contents. Then, when I have some photos that match the color (my first scrapbooking requirement), I search to find some that will work with the photos.
I can take my time working on the detail of the layout and then when the photos arrive, they are on the page very quickly and ready to put in my own book or to give as gifts.
Purchasing Scrapbook Monthly Kits through Scrapbook Kit Clubs has also allowed me to test a lot of new scrapbook supplies and a number of tools over the years at a cost much less that if I had purchased them all individually.
There are a lot of Kit Companies out there now, and I have provided a few reviews here.
Club Scrap Monthly Scrapbook Kits
OK, I must admit it, my first selection here is my favorite Scrapbook Monthly Kit Club -- Club Scrap.
Club Scrap.com sells Monthly Themed Scrapbook Kits that are Paper kits and their newest matching Digital Kits. More than just Scrapbook Page Kits, their paper kits come out 3 times each month (you can opt to purchase only the kits you want) with a Senior Kit shipped out on the first of the month, a smaller Junior Kit shipped out on the 15th of the month and a third kit, the Club Stamp Kit, being shipped on the 20th of the month.
There are various options you can request for each kit you decide you would like to receive which can include, photo mattes, rubber stamps, ribbons, fibers, beads, brads, eyelets, stencils and projects as well as 12 x 12 paper and 8 1/2 x 11 paper in prints and solids plus extra scraps of matching paper all with the same monthly theme.
When I first saw an ad for Club Scrap Scrapbook Kits in 2002, I was hesitant and ordered one just to check them out. I was so impressed with the beauty and quality the day I received it, I immediately went in and ordered all the back kits they had available and I have been with them ever since. I would certainly say they are my favorite and I look forward to each kit with the same excitement as I did in 2002.  There papers are elegant and their kits are beautifully designed and delightfully matched.
Initially, I was worried about the monthly theme idea, but it has actually helped me keep my supplies organized.
Aside from the new Digital Layout Kits to match the other monthly Kits, Club Scrap also has what they call Assembly Line Scrapbooking (ALSB), where they show you a full set of 14 layouts for the Sr Kit and 10 layouts for the Jr. kit as well as card making layouts. These great Assembly Line Scrapbook Layouts have allowed me to scrap a lot more than I would if I had to create all the layouts myself. My Club Scrap layouts are all throughout this website.
A really great added Bonus to being a Club Scrap member, I get to purchase additional kit items if I want more through their "Gotta Have More" (GHM) Department and they have Absolutely Awesome Retreats near their Headquarters in Appleton, Wisconsin.  Just imagine getting to shop in their Club Scrap Warehouse! That's a real Scrapbookers Dream!  
You can check them out at ClubScrap.com.
Personal Shopper Monthly Scrapbook Kits
About 2009, I decided to check out the Personal Shopper Kits which come once a month. The Personal Shopper Scrapbook Page Kits are not necessarily themed, but there are a good assortment of papers and matching embellishments.
They provide at least 4 double page layout ideas as well as card ideas and their creative ideas have allowed me to do more involved layouts with more embellishment detail than I would think of on my own.  Here are some products that I received in an older  Personal Shopper Scrapbook Kit.

I have also posted a number of my Personal Shopper Scrapbook Layouts from 2009 and 2010 as well as some more layouts from Personal Shopper Scrapbook Layouts 2011 for you to review in detail.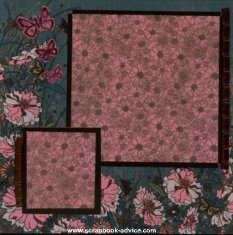 StoryTellers Club Scrapbook Monthly Scrapbook Kits
Here I show you some layouts and items from some of the StoryTellers Scrapbooking Page Kits I have received over the years.  They are also a Scrapbook Kit Club that requires a membership.
StoryTellers Club Scrapbook Kits
and some additional layout ideas from Scrapbook Monthly Kits at
More Scrapbook Layout Ideas from StoryTellers Club.
Christmas & Holiday Scrapbook Kits
These are some Holiday and Christmas Scrapbook Layouts that I have put together from Scrapbook Monthly Kits from Club Scrap.com, Personal Shopper and Doodlebug Designs.
Check out the layouts, some with and some without photos here
at Christmas Scrapbook Layouts
and here at
Christmas Scrapbook Layouts Page 2.
We will be adding more information on Scrapbook Monthly Kits as we find them available.
Check out our Site Mapto see all our page options

Or our Home Page for general Scrapbook Advice from Scrapbook Monthly Kits

Our 10-Step Quick Start Guide for Scrapbooking for Beginners

or the Themed and Heritage Scrapbooking with over 70 themed books
or the Layout Gallery for more Ideas