Scrapbooking for Beginners
We will walk you through the process, step-by-step
Step #3 - Determine the Scrapbook Theme
Scrapbooking Basics


The Quick Start Guide of Scrapbooking for Beginners.

1. Gather Related Photos.
2. Determine the Predominate Color.


3. Determine Theme or Context - for page or album.


4. Pick Papers - Based on your colors, scrapbook theme or content.
5. Collect your tools.
6. Matte the photos -- if you want to.
7. Test fit the photos to the page size and adhere to the layouts.
8. Add Embellishments or other goodies -- if you have them or want them.
9. Add the Journaling or save it for later.
10. Get your scrapbooking photo album and load the pages in your album and show off...




OK, So now we have our 6 photos with a lot of blues and greens and we need to determine our scrapbook theme or context.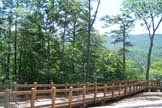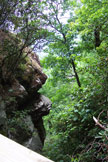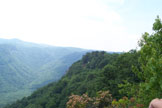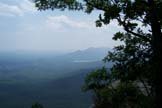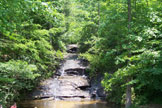 These are really outdoor photos so the scrapbook theme would be something natural, outdoorsey, possibly with a bit of an unfinished look - like rough or distressed edges.

The papers, the fonts and the embellishments all need to fit into this theme.

The papers would not need to be shiny or flashy, but something possibly with a matte or textured finish.

The font for the journaling, it you want to use something fancy, would be something like a Western Font or a Font that looks like it's made out of sticks. Nothing like old English script or a font with fancy flourishes.





This layout would not have embellishment items on it that are shiny or glossy like rhinestones, nothing like plush velvet ribbon or ribbon that is gold or silver. Bling and Glitz have their places, but not on an outdoor themed layout.

Here are some of these photos used on some layouts below.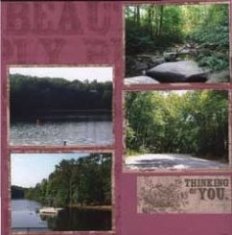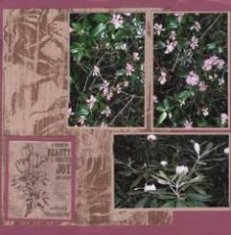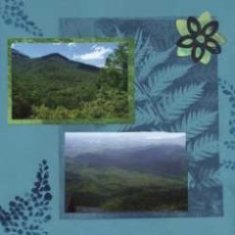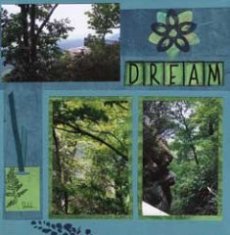 Click on any of the layouts to see more of the Table Rock State Park Scrapbook.


---
Here's another set of photos with a completely different look.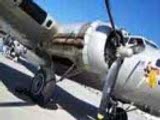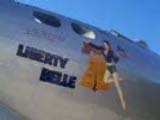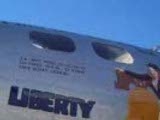 These photos were taken of a B-17 from World War II, the Liberty Bell, which has recently been restored and is currently flying.

These photos are mechanical in nature. And they have a lot of color, with the blue sky and the colorful artwork on the nose of the aircraft.

For Scrapbooking for Beginners, I would choose something neutral to show off the photos. Possibly with some design in the paper that has drawings or artwork that may be related to aviation. Again, with these photos, no fancy plush ribbon or shiny, except maybe some metallic tag like a dog tag. Since this theme is Aviation or Military, keep it simple, possibly even stark.

As far as embellishments go, I think that should remain simple and matter of fact. The art work on the nose of the Aircraft already tells the name of the plane. Possibly just a placard with a simple frame around it, with the "B-17" on it would be enough for a title.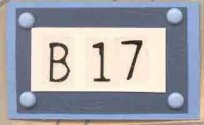 Since the aircraft itself had rivets all over it as part of the construction - maybe some brads on the placard to resemble the rivets would be a nice touch. (As you take more photos, you will become much more aware of what you are seeing.)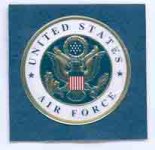 There are a lot of Military embellishments available for each branch of the service, so maybe an Air Force emblem would also be a nice edition.

Try to keep in mind that this is a Military Layout and needs to have simple clean lines.



Scrapbooking for Beginners Tip: Below - Notice that vertical photo from the group above seems to have something blocking the right side of the photo. Most of that photo was good. I didn't have another photo with the same view, and I wanted to use it, so I cropped that side and fit it onto the layout. The photo matte is a larger matte which gives an optical illusion that the photo is the same size.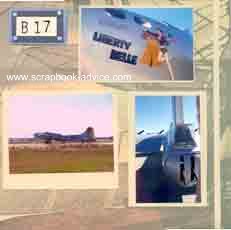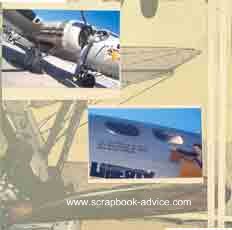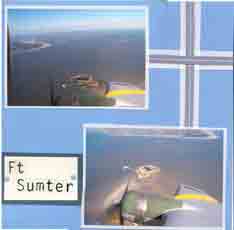 Scrapbooking for Beginners Tip: Above, on the left hand page, the background paper is made from a plain light blue paper and rubber stamped with some airplane stamps in a darker blue. I made my own background paper using an 8/1/2 x 11 piece of light blue card stock, placed over the 12 x 12 plain white.

Above, on the right hand layout, the embellishment is a light blue ribbon with the white dashed line down the center, placed over a ribbon of white paper. As we were flying over the Charleston harbor, sitting in the nose of the aircraft, I thought the visual impression of looking for a certain location with the crossed ribbons fit the tone of the photos.

Click on any of the layouts to see more of the Air Force B-17 Scrapbook.


---
Let's continue this analysis for Scrapbooking for Beginners, but without photos.
I will not be posting photos of friends and family, but let's assume you have photos from a
Child's Birthday Party.
Of course, the embellishments could be things like brads or stickers in the shape of balloons, a die cut cake with candles, possibly some of the actual ribbon from a special package. Something related to the party favors or the theme of the party itself. Age appropriate of course.
Scrapbooking for Beginners Tip:
For a
Baby
, buttons and diaper pins go well on a page. Not thin like photos, but anything 1/4 inch or under, if not too heavy will do well as an embellishment. We call this using
"lumpy stuff"
and as long as you store your books standing up, and the items in there are not pointed, and are not across the page from a photo, you will be OK.
If your photos are of an
Adult Party,
possibly someone who has reached one of those milestone birthdays where "Over the Hill" is the theme, you may want to make your background papers black or maybe just the photo mattes.
If your photos are of a
New Year's Eve Party
, here is where the glitz and bling would work. Possibly a metallic finished background paper or mattes, tinsel, metallic lettering or confetti. Confetti? Was there any at the party? Pick up a few pieces to add to your layout pages. You will probably be helping your hostess clean up a little in the process.
If your photos are of a
Home Improvement Project
with the traditional before and after shots, perhaps you could pick up some of your embellishments from left overs that were part of the project. A strip of
paint chips, sandpaper sections
(you do know that it does come in a variety of colors, now),
fabric samples
, or possibly a title using a washer or piece of wire formed into the shape of a few letters.

Scrapbooking supplies at a hardware store? You bet!

Scrapbooking supplies can be Sewing notions, jewelry beads and findings, office supplies, even sand and shells from your trip to the beach (put into what we call a shaker box.) You can collect your Scrapbooking for Beginners Supplies any place you can find them.
Anyway, I think you get the idea.
Now that you have Picked Your Theme ... Go on to Step #4 -
Pick Your Papers from Scrapbooking for Beginners

Scrapbooking for Beginners 10-Step Quick Start Guide
for more great scrapbooking basics & tips

Scrapbook Tutorials & Techniques

Leave to Home Page for general Scrapbook Advice