Jewelry Pendant Kit
I found the great little Jewelry Pendant Kit during a demonstration provided by Tessler Stamps at the Stamp, Scrap, Art Tour Weekend show in Columbia, SC which is listed on our Scrapbook Conventions or Expos page. I have found many great things from Tessler's at various craft shows over the years that are always very creative, beautiful and yet easy to do.

Here are some of the fun and creative pieces I made from the Jewelry Pendant Kit I purchased for only $30.00.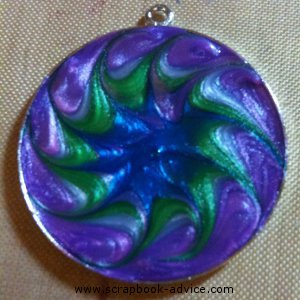 Scrapbook Supplies needed to make these Jewelry Pendants.
I only needed 4 things to complete these unique Jewelry Pendants, all came in the Kit, but you may already have some of these items in your scrapbook supplies stash.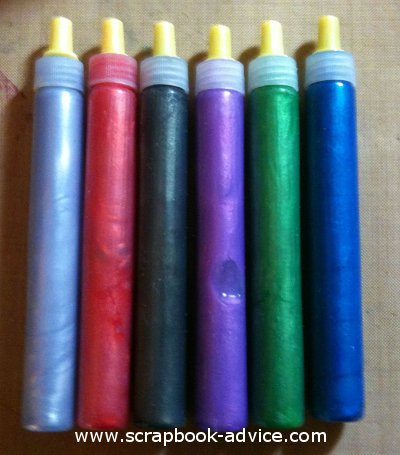 1. These 6 colors of Pearl Colored Lacquer came with the Primary Color Jewelry Pendant Kit and are called Natural (looks like Silver) Red, Black (looks like Dark Grey), Lavender, Green and Cobalt Blue. This process should also work with the Viva Pearl Pens or Ranger Liquid Pearls if you happen to have those in your Scrapbook Supplies Stash.

2. The Jewelry Pendants which came in a 1 & 1/2 " Round Diameter Silver, 1" x 1 & 1/2" Rectangle Silver, and 2" x 2" Square Silver. I received 5 pendants of each shape.
Each pendant one has a small lip around the edge which holds the paint that will be applied. I have found these types of pendants from a company called Patera in different sizes, shapes and metals.
3. Pointed toothpick. Three of them came in the kit.
4. Bottle of Galaxy Glass, Crystal Lacquer, or Diamond Glaze. A 2 oz. bottle of the Galaxy Glass came in the kit.
Here are all the Pendants made from one small kit.


Naturally, any of these that you make for your self will come out different from the one before. Here's the
Pendant Jewelry Tutorial
so you can see just how easy these are to put together. And they are Quick, too!
If you are looking to purchase a kit, or the individual products to do these, here's our
Pendant Jewelry Supplies Store
Check out other Scrapbook Tutorials & Techniques

Home Page for Scrapbook Advice
from the Jewelry Pendant Kit