About Scrapbook Advice.com
This is really about Me
and About Scrapbook Advice.com
My name is Diana and I have been doing
Scrapbooking since 1972 - way before it became popular.
I have had time to grow with the hobby, and seems like every time I go into a Scrapbook store or a store that sells scrapbooking supplies, I see a bunch of new things.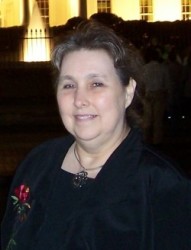 There was always another customer there who would ask a question about what to get, or where to find something, and I would always try to help. I was always giving help and talking about scrapbook advice. With all the new products it must be truly overwhelming for a newcomer to try to decide what to buy to get started.

I was looking at a website the other day that had a headline banner that said they introduced over 17,000 new products in 2008! That's hard for me to wrap my brain around!





Lots of Scrapbooking Experience.
I have actually been doing scrapbooking longer than I realized. I thought I had been putting together scrapbooks since I received
my first Leather Bound Scrapbook in 1972
as a college graduation gift. But, just about a year ago I found what must be my
First Scrapbook
that I had put together over the course of several years that ended in 1963! (Mothers keep all sorts of things, don't they?)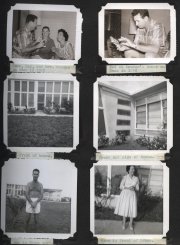 This was a soft cover, spiral-bound notebook type with black pages and the little black and white photos and a few color Polaroids were stuck in there with the black photo corners. Along with the photos were Journaling & Embellishments! What a find!
My
journaling was an attempt to dutifully document who, what and when.
It was not in my handwriting, but rather typed up on my mom's typewriter, that had a green typewriter ribbon! It was so "My Mom" and
the journaling alone brought back tons of memories!
The paper with green typed journaling was cut into small squares and glued under each photo like a
little newspaper caption.
The
embellishments were ticket stubs, notes, invitations and cards from relatives & friends.
Plus a trip diary that my mom suggested we keep from a road trip we took together in 1960! We got off to a rather late start that day and spent the night in a hotel only 40 miles away! She thought we would get an earlier start if we weren't at home.
My Dad teased us about if for years, but isn't that what scrapbooking is about? - remembering all those Wonderful Moments.
We laughed about that short trip for years and when I found that book, my mind was flooded with all those wonderful times we had.
Why Scrapbooking is Important?
Scrapbooking is important to me and
the older I get, the more I value my own books.
For me, they have become somewhat like a diary.
A diary of the things we did as a family,
then later the things I did, my school, my friends, my relationships, my work, my cars and my travel. So for me to find a forum about scrapbook advice is a wonderful way to help others relive some of those fun memories I experienced when I found that old scrapbook.
I first learned how to take photos when I was 7 with the help of my Dad. He got a 35 mm slide camera then and I actually took more photos than he did. Some of our vacations are only of my parents -
just like today, I was always behind the camera! Another reason for the importance of
"The Book of Me"
pages.
About the Art Work
About Scrapbook Advice Art Work - all of the pages and most of the layouts and photos you will see here are mine. Some of the photos were taken by others and I have tried to give credit where due, but some of the older photos I just don't remember or never knew. The photo of me at the top of the page was taken in front of the White House on an evening tour by one of my fellow tourists.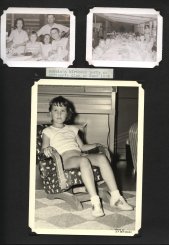 Change the Old Pages to use New Products?
This is a personal issue and many folks like to do that. I will never go back and change old pages. I like to see how my hobby/craft has changed and grown over the years and it's also very interesting to see what products were popular in each year. Just like old clothing and hair styles, they are fun to look at.
Are My Photos Organized?
Do I have all my photos in scrapbooks? Of course not. You would think that a person who provides advice about scrapbooks would. That is an impossible task. But, I do have a lot of them pretty well organized.
I have recently found stashes of photos that go way back and I'm trying to get them organized.
I am sorting through them & putting them in somewhat chronological order
a little at time.
Some are in photo-safe storage boxes and some have been slid into page protectors waiting to put into layouts.
Having converted to digital photography about 8 years ago, it is much easier to sort through electronic images. But I take many more photos as well.
I will never scrap them all.
But with the move to digital photography, I have a better selection of images to choose from.
Why the Website?
Back in 2007 I started thinking about scrapbook advice and what I wanted to do when I retired. Photography and Scrapbooking had always been a part of my life and I have made many books for friends and relatives over the years.
I have taught and helped all sorts of folks get their hobby started.
It seemed only natural for me to end up doing something about scrapbook advice and helping others get their own scrapbooks started or completed.
I took a
course through the Chamber of Commerce
about how to start a small business and there was a lot of discussion about
the need for a web-presence in today's marketplace.
I did a good bit of research and was looking for someone to build a website for me, with little success. A few weeks after the course was over, I heard about a course offered at The Citadel Military College in Charleston, SC entitled
"How to Build a Successful Internet Business" and I enrolled immediately.
That's just the basics about scrapbook advice.
Build my Own Website - Is that an Option?
Having my own website enables me to add new pages and change things when I want.
I don't have to wait for someone else to get to my request for page changes. I don't have to try to explain to someone else what I want my pages to look like. I don't have to pay for a programmer. If I have an idea in the middle of the night, I can act on it without having to wait on someone else.
Using Site Sell
The Citadel was one of the very first to offer the
Site Sell method of developing web sites.
What I learned in the first day of class about the Site Sell method was that I
did not need to know "html" the programming language.
I had learned "html" years before in a web class but it's one of those things that you forget if you don't use it. I would not have to relearn all that again, because the
Site Sell method uses a Block Builder system that allows the owner of the site to concentrate on page content
and get started using what they already know.
Contact me if you would like to discuss anything about scrapbook advice or how I build my website using the
Site Sell Method
to develop everything about Scrapbook Advice.com.
Please check out our Privacy Policy

Contact Us

Go Back to Home Page for General Scrapbook Advice from About Scrapbook Advice.