Stencils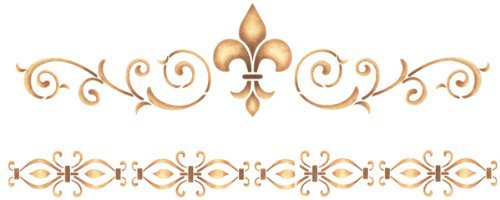 Basic Stencils & their Designs offer great ideas to add a personal touch to your Scrapbooking, Home Decor Projects, Gifts and Gift Wrapping, Card Making and many other crafting items. You can use them on any surface - paper, wood, ceramic, glass, tile, fabric, metal, plastic, wax and more. Wiki defines them as s template used to draw or paint identical letters, numbers, symbols, shapes, or patterns every time it is used.


Go directly to our Stencil Store to check them out by Vendor
Stencils are formed by removing sections from template material in the form of text or an image. This creates what is essentially a physical negative. The template can then be used to create impressions of the image, by applying pigment on the surface of the template and through the removed sections, leaving a reproduction of the image on the underlying surface.
Those used for Aerosol or Painting must remain contiguous after the image is removed, in order for the template to remain functional. Sections of the remaining template which are isolated inside removed parts of the image are called islands. All islands must be connected to other parts of the template with bridges, or additional sections of narrow template material which are not removed.

Pebbles Inc. for Chalk 10/Pkg Flowers
Below are just a few of the Stencil & Associated Products & Manufacturers I have run across.
- Artograph -
for Light Boxes.
- Cedar Canyon -
Used primarily for Textiles are usually packaged in sets of two and are designed for quilters and fiber artists.
- The Crafter's Workshop -
These range in sizes from 5" x 5" to as large as 12" x 12" - great for copying the image or design to the entire background of a 12 x 12 scrapbooking page.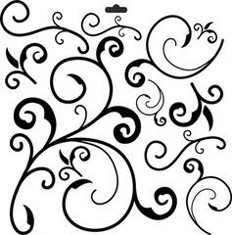 Crafter's Workshop 12 Inch x 12 Inch Templates - Capricious



- Crystal Style Hot Fix Templates - These give you an easy and fun way to precisely apply hot fix embellishments to garments, paper crafts and other surfaces. Just use the holes in the template with hot fix crystals, pearls, or metals and your design is complete. Using Crystal Style templates, you get perfect placement every time. These are re-usable and are made out of a heat resistant material that will not melt or burn.

- Darice -

- DecoArt -

- Delta Magic -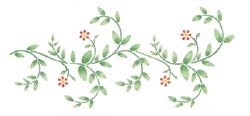 Delta Magic Delicate Vine Border



- Graphic Impressions - With Graphic Impressions Timeless Treasures Stencils, there's no need for a Lightbox. Simply trace onto your fabric and embroider, then color with crayons.

- J T - Adhesives to adhere Templates

- Kaiser Bakeware - for Baking & Cake Decorating

- Lark Books -

- Martha Stewart - for Baking & Cake Decorating

- Pebbles - Pebbles Inc Sets are made of thin, durable plastic that can be used over and over again, and are packaged in a reusable tin case. Each set is the perfect companion to Pebbles Inc chalk sets. They're easy to layer because they have opaque plastic for easy placement. Each set is themed based, perfect to use for your scrapbooking, art projects and more including Dry Embossing, tracing, inking and more.

- Plaid - also sells Brushes and Paints

- Quilting Creations -

- Royal Crafters Choice - for Brushes

- Spellbinders - Spellbinders Dies are for use in the Wizard, Xcalibur Motorized and Grand Embossing and Die Cutting Machines. These patented metal dies offer triple function; they cut the shapes, emboss details into the die cut shapes and finally let the user stencil through the die for added effects. Spellbinder dies may also be used in most leading die cut machines.

- StenSource for Painting -

- Testors ColorArtz - These are perfect to use with the ColorArtz airbrush systems, but can be used simply as an adhesive-backed template. Whether you want to personalize bags, clothing, shoes or accent your home decor these will ensure success. The self-adhesive backing ensures the stay in place as you work, making it easy to apply multiple colors. These can be used over and over, and are easy to clean.

- Tattered Angels - Make a Glimmer Screen (or Mask) - the opposite of a template to mask off an area when using their Glimmer Mist products.

- Tim Holtz - Tim Holtz Idea-ology Masks. This flexible material has a lightly tacky re-positionable backing that will hold its placement as you paint. Try these with spray and acrylic paint, inks and dyes. Masks can be used multiple times.

- Tulip - Want a fabulous design for your clothing and accessories using the Tulip Multi-Surface Stencils. Choose from a variety of designs that can be used on multiple surfaces, not just fabric. They are self-adhering and reusable. Simply remove the backing from the template, press in place, apply color to the surface and peel the template off. Then, rinse and re-use.

- Wilton - Bakeware for Cake and Cookie Decoration