Scrapbooking for Beginners
Will walk you through the process, step-by-step
Step #4 - Pick Your Papers


The Quick Start Guide of Scrapbooking for Beginners.

1. Gather Related Photos.
2. Determine the Predominate Color.
3. Determine Theme or Context.

4. Pick Papers - Based on your colors, theme or content.

5. Collect your Tools.
6. Matte the photos -- if you want to.
7. Test fit the photos to the page size and adhere to the layouts.
8. Add Embellishments or other goodies -- if you have them or want them.
9. Add the Journaling or save it for later.
10. Get your scrapbooking photo album and load the pages in your album and show off...



Pick Your Scrapbook Papers based on your Theme or Content.
There are many, many options that you have to choose from for your papers, whether for your background or for your mattes.
Take some time and do a little shopping and I am sure you will be amazed when you see what all is available.
Where Do You Purchase Your Scrapbook Papers?
You can purchase all of these items at your
Local Scrapbook Store (LSS)
or at any of the bigger craft stores. There are also on-line scrapbook stores at many different web sites, or you may subscribe to a monthly kit group that sends you a monthly themed kit.
ClubScrap.com
is my all time favorite with all themed coordinated scrapbook paper of card stock weight and matching embellishments. I discovered them in 2002 and wait eagerly each month for my new kits. Many of the paper samples on this page and through out my website are from Club Scrap.
As you shop and look at the various
types and themes of paper, they will bring to mind some photos you have or an event that you attended.
Something will surely click.
You will find there are so very many products, you can't see them all. Everyplace I go I see some
old favorites
and also many
new products.
That's the real reason I started this web site. I can't imagine just starting out in this craft or hobby today - it must be overwhelming! At least I was in it from the very beginning and only had to become acquainted with a few new things at a time. Even now, every time I look, I see something new.
Scrapbook-advice.com Tip for Beginners:
Check out a variety of locations to purchase your scrapbook paper and other products to see what is available. Anything and everything is out there, but if you limit yourself to one store, you will only see a very limited variety of items.
What Type of Scrapbook Papers and Card Stock are Available?
There are different
weights of scrapbook papers,
ranging from regular text weight paper to a heavier type card stock.
Scrapbook Papers and Card Stock can be plain,
solid colored, or patterned
with a small pattern, border patterns, headline or title patterns, all over patterns, or complimentary companion patterns.
Complimentary or
companion patterns
may have a design or picture that covers a right hand and a left hand page. They may also be opposite in design.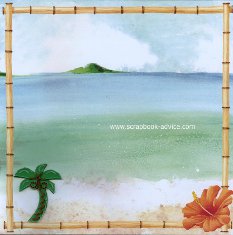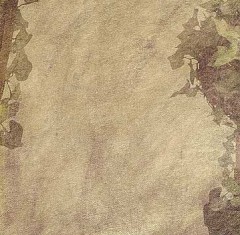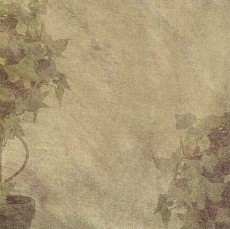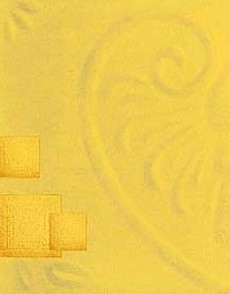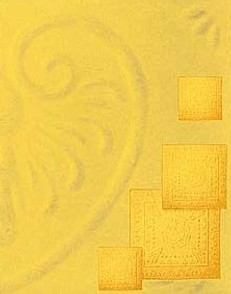 Scrapbook-advice.com Tip for Beginners: You can use the White stock paper that comes with your Scrapbook and additional page protectors.

Scrapbook Papers and Card Stock can be smooth, slick and glossy, shiny, matte finished, metallic, textured, embossed, fibrous (Mulberry paper), felt, rubbery, fabric, or cork textured.

Below are a couple of examples, of metallic, textured and patterned all in one. This paper is actually a dark brown with metallic in gold and silver throughout. Some good paper to use when you have that New Years Eve party with a lot of bling!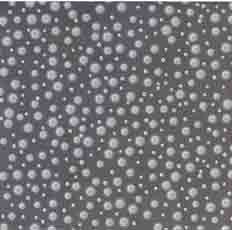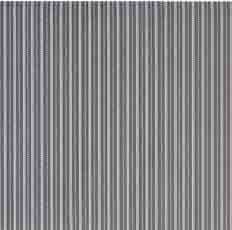 Below are some more examples of textured paper. While there is no theme to this paper design, it is very versatile and its texture is very predominate. No metallic here, just texture.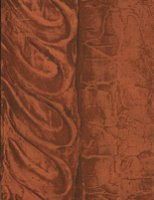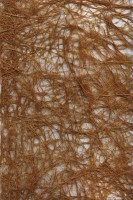 Specialty Papers


Specialty Papers are also available like Core'dinations Color Core Paper with a different color on the inside core of the paper, Post-it Scrapbooking Paper with the familiar post-it adhesive already on the back and the New POW Glitter Paper from American Crafts.



This Piece of Core'dinations ColorCore Cardstock was embossed first. The left edge was torn revealing a coordinating color on the inside and the right half was sanded, also revealing the core color at the raised embossing.




Here is also a page devoted to the new Core'dinations Cardstock with both Texture and Color variations on one product. To see more about this wonderful product at the Coredinations Cardstock Store.


Below are some examples of Hawaiian themed paper.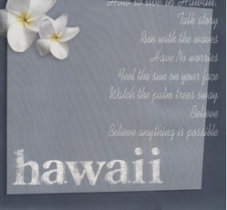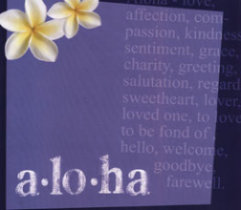 For an additional look at more of this great Hawaiian Themed paper, go to our page on Hawaiian Scrapbooking.




How Are the Scrapbook Papers Packaged?
Papers and card stock are available
one sheet at a time.
I purchase them this way when I am doing some specific shopping for a particular layout or group of photos that I already have a layout idea for. I use this when I am looking for a specific color or theme that I don't already have in my "stash of stuff." My scrapbook paper supply or stash is pretty extensive now, but every now and then I see something new that I know I have some photos that will work.
Scrapbooking for beginners says that scrapbook paper and card stock comes in
stacks,
for instance, a package of blue, will be 5 different shades of blue with 5 of each sheet for a total of 25 sheets. They may come in stacks of neutrals, blacks, whites, grays and ivories. I have seen them in stacks of pastels, jewel tones, as well as browns, greens, reds, and metallics.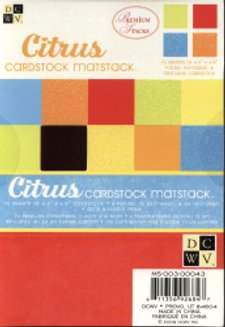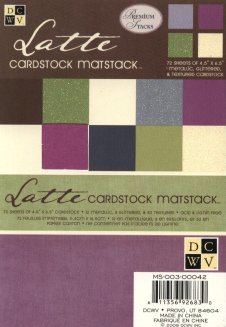 These are photos of 3 covers of 12 new (Feb 2009) Stacks by Die Cuts With a View, DCWV. The cover has sample squares of each paper.

Some are glitter, some metallic, some with a sheen, some with texture. These particular ones have 72 for mattes at 4 1/2 x 6 1/2 inches, but these are also available in 8 x 8 inches, and the standard 12 x 12 inches with 2 copies of each paper with 24 designs for a total of 48 papers or card stocks.

Scrapbook-advice.com Tip for Beginners: When I purchase these stacks, I like to get the mattes to go with the larger sizes so my pages will coordinate. These are a great idea for coordinating your Scrapbooking for Beginners or Advanced pages.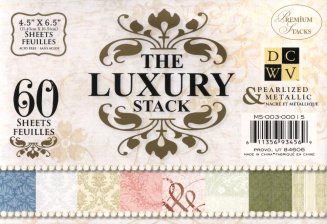 Here is a link which shows the current selection of the DCWV Paper Stacks at Die Cuts With a View for a sample of all their new products and to locate a store new you where you can purchase.

Sometimes scrapbook paper comes in packages of print and solid papers, usually with a theme such as school days, holiday, summer time fun, etc. Often these also have tags, titles and labels that coordinate and match the papers. There are papers and kits like this for each branch of the Military, also.

Check here for photos of some of the Military Kits. Military Scrapbook Kits


Sometimes paper comes in themed kits to include embellishments such as tags, eyelets or brads, inks, pens, stencils, fibers or ribbons - you get a whole bunch of coordinated items and all you need to do is find your photos to match. These are wonderful for scrapbooking for beginners and advanced alike. Again, Club Scrap.com is my all time favorite for kits.

Scrapbook-advice.com Tip for Beginners: The themed packages are great if you are doing a themed scrapbook for a lot of different photos. Often the packages will show some sample layout ideas as well.



How Much Scrapbook Paper Do You Buy?
For a 2-page layout for a 12 x 12 album, I would purchase 2 background sheets of the same color or pattern and at least 1, or 2 coordinating sheets (same or different color) to use for your matting, titles or title block, journaling blocks, borders, tags, pockets or other embellishments. These coordinating sheets can be either 12 x 12 or 8 & 1/2 x 11. You may have some of this left over if you get 2.
Scrapbook-advice.com Tip for Beginners:
If you select patterned background papers, be sure to select some coordinating plain or solid to matte your photos on. You don't want to mix your patterns or overpower your photos and get the layout
"too busy."
Don't forget, your main objective is to showcase your photos - they are the main focal point.
For goodness sake, you don't want it to look like the proverbial tourist with the flowered shirt and plaid shorts!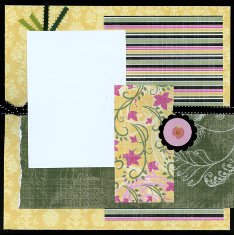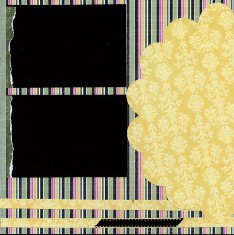 Check out these ideas and layouts using patterned papers, some of which have bold and contrasting colors, some of which are more subtle patterns. While there are no photos on these layouts, the solid card stock is cut into 4 x 6 inch sizes to matte a photo nicely and still provide a small border around the photo to allow the photo to be the focal point.

Tips and Ideas for Using & Mxing Patterned Paper
or
Scrapbook Layouts with Patterned Paper.
So, What Kind of Scrapbook Paper Do You Buy?
Scrapbook-advice.com Tip for Beginners:
I can't exactly tell you what to buy, but get something you like. Go for pretty and something that you think you would like to work with.
There really is no wrong way to do this.
Just keep learning from Scrapbooking for Beginners.
Now that you have Picked your Papers ... Go on to
Step #5 - Collect Your Tools from Scrapbooking for Beginners

Or check out our page on Scrapbook Page Kits

Go back to Quick Start Guide of Scrapbooking for Beginners

For a look at some Special Hawaiian Scrapbooking Papers

Check out Scrapbook Tutorials & Techniques

Go back to Home Page for general Scrapbook Advice