Scrapbook Adhesives


One of the most important things about scrapbook adhesives is the fact that they need to be safe for use with photos, that is acid free and lignin free and archival safe so as not to damage your photos or the papers used in your scrapbook. So before you purchase them, be sure to read the label.

There are different kinds of adhesives for different kinds of jobs. Most adhesives are made to be permanent, some are temporary, and some are both -- temporary when initially used and then become permanent the longer they are fixed.

I have a lot of different kinds of adhesives that I use. I like certain types of products for certain things.


Experiment and find works best for what you like to do. I currently have a box of assorted adhesives and keep the box handy when scrapping.
Avery, Scotch, Zig, Tombo, Pioneer, 3-M, Elmers, Herma, 3 L, Therm-0-Web, Alleen's, and Wacky Tac are just a few of the manufacturers.
If you are looking for
Adhesive Paper
, please check out our page on the new
Post-It Craft Paper and other 3M Scrapbooking Items.
================================================
We have recently added the Scrapbook Adhesives Store for you to purchase the various Adhesives shown on this page and to view more items available that might come in handy. The store is at the bottom of the page.
================================================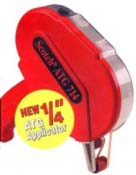 ATG - Adhesive Transfer Gun - The Scotch Adhesive Transfer Tape Dispenser is the quick and easy way to dispense 3M ATG Tape. The tape itself is supported by a backing film and is a pressure-sensitive adhesive pre-applied to a special liner. The gun allows the tape to be applied cleanly and easily.

(We offer these on Page 5 of the Scrapbook Adhesives Store down at the bottom of the page.)

This is a great option for doing a lot of scrapbooking or paper-crafting. No little 1/2 squares of backing from the double-sided splits.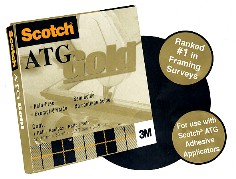 The tape from 3M comes & can be purchased in boxes with 12 rolls. The tape comes in 1/4 inch wide by 36 yards, 1/2 inch by 36 yards, 3/4 inch by 36 yards, 1/2 inch by 60 yards and 3/4 inch by 60 yards. This tape with it's acid-free qualities, rolls on smoothly and quickly with great initial tack.

The ATG is rather large and I thought I wouldn't like it, but now that I have one, it is one of the nicest Scrapbook Adhesives I have. I don't know how I scrapped with out it. But, I listened to my scrapbooking friends and purchased from the same vendor they used.

Other features of the ATG include a gear system that works with a trigger like mechanism, that helps prevent gum-up, easier loading and a transparent cover - so you know when you are getting near the time to replace the roll of tape. No Surprises!

I purchased mine from Framing Supplies.com for $37.00. I also purchased 24 rolls of 1/4 inch x 36 per roll of 3M980 Gold Tape, which is safe for scrapbooking, for another $37.00. They are very fast to ship and easy to order from on-line.

Scrapbook Adhesives Tip: The tape, if you need to remove it, will actually rub off like rubber cement. The 1/4 inch width is thin enough to apply to the back of ribbon when using as an embellishment. If I run off the edge of the embellishment and some of the tape peeks through, I can just rub it a little and the sticky will ball up and can be disposed of quickly.


--------------------------------------------------------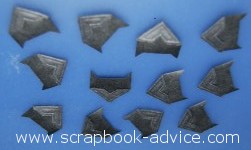 Photo Corners - Photo corners we remember from years back when they were all Black and were used in photo albums and scrapbooks when we only had black pages to pick from.

Now they come in a variety of colors like white, pastel, black and metallic gold and silver, as well as pastels like light blue, light green, pink and even clear. They are also available in various sizes, in ribbon, metal and punched papers.

See Page 20 of the Scrapbook Adhesives Store below.

These Scrapbook Adhesives are particularly nice if you have older photos that you don't want to adhere directly to your pages, as the photos can be removed from between the photo corners very easily.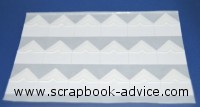 Sometimes these are available in small bags of one, two or three colors.

Sometimes they come in packages where they are lined up in rows on non-stick backing.




We have a very large selection of photo corners in our Scrapbook Adhesives Store, starting on page 20, and they include white, black, silver, gold & copper, clear, red & green, decorative, large size, shaped sizes from Disney and Anna Griffn Florals, metallic and Chipboard. Hope you can find what you want there!

Scrapbook Adhesives Tip: If you are working on a scrapbook page and you want to use photo corners and you only have white, they can actually be colored with an ink pad or embossed with embossing powder.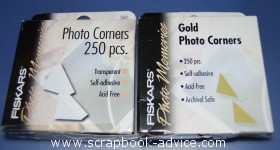 They also come in small packages of 250 on a roll in various colors as well as clear.

There are manufacturers that sell them in larger sizes, some are layered with embellishments. There are also lots of colors and textures, some are actually metal corners, and some are made of ribbon.

Scrapbook Adhesives Tip: You can also make your own Ribbon Photo Corners, with a small strip of ribbon wrapped around the corner of your photo and taped to the back of the photo itself or a small square of paper if you don't want to adhere directly to the photo.


--------------------------------------------------------

Pop Dots
- with foam and tape on each side.
(Several types of these can be purchased from the Adhesives Store beginning on Page 8.
}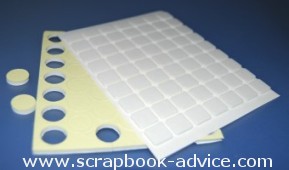 These are cushioned squares or rounds (about 1/2 inch) with sticky tape on both sides and a foam center about 1/8 inch deep. Usually purchased in the Regular 1/2 inch size, there are also also Mini Pop Dots available at 1/4 inch wide.

The foam between the top and bottom tape, is about 1/8 inch thick. Some can even be purchased as thick as 1/4 inch, or you can use two of the 1/8 inch height stacked on top of one another.

(We have a nice selection of Pop Dots, Adhesive Foam Dots and 3-D Dots in our Scrapbook Adhesives Storedown below, starting on Page 8. They come in several shapes and sizes by several manufacturers.)

Scrapbook Adhesives Tip: Using Pop Dots to adhere items on your scrapbook page will lift the item slightly above the page and will add dimension to your layouts. If you have something too small for the ½ square size, these can always be cut up into smaller pieces. You can also use multiple Pop Dots to add various levels of height to your project.

Scrapbook Adhesives Tip: If you finish up with a page of the Circle pop dots, don't forget you still have the foam & tape left from around the Pop Dots. You can use this also - and it's OK because no one will actually see the back of the item you are attaching with the Pop Dots or the Pop Dot left overs.


--------------------------------------------------------

Foam Tape
- is similar to Pop Dots, but comes on a roll and can be used to adhere larger items and still have the dimension of a Pop Dot.
Scrapbook Adhesives Tip:
Use
four strips of foam tape
arranged in a square or a rectangle to make the
base for a Shaker box.
Put your embellishments in the base made from the foam tape. Adhere a piece of clear acrylic to the top of the foam tape.
Scrapbook Adhesives Tip:
One thing you may wish to note is the fact that when using things like Pop Dots or Foam Tape, you may want to store your scrapbooks in an upright position. Not only will this keep your pop dots from going flat, it will protect things in your pages that are opposite your "lumpy stuff".
--------------------------------------------------------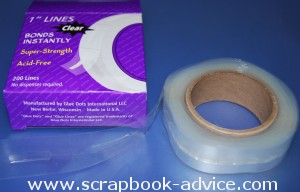 Glue Dots (or Sticky Dots) and Glue Lines - These are very strong dots or lines of glue that are great for non-porous or heavy embellishments - things like metal, glass, plastic, wood or anything slick. They usually come on a plastic roll or a sheet and even in a dispenser that will apply them without having to touch them.

These also come in several sizes.

Scrapbook Adhesives Tip: If by chance you wanted to adhere a line of dots in a row someplace on your page, tear off a strip of the backing that is the length of the "line" you want, this makes it easier to space them out properly.


--------------------------------------------------------

Vellum Adhesive
- Yes, there are special scrapbook adhesives for adhering vellum (semi-transparent paper) to your scrapbooking layouts.
The
Vellum Scrapbook Adhesives do not show the tape through
vellum papers. If you are using vellum, say as a journaling block, and adhere it with regular scrapbooking adhesive, you will be able to see the tape outline through the somewhat transparent vellum paper. My experience has been that the darker the vellum, the more regular adhesive will show.
Scrapbook Adhesive Tip:
If you want to adhere vellum and don't have any tape for use with vellum, attach it using some eyelets, brads or fibers. Or, plan to cover the taped area with something that you can't see through.
Again, there are several different manufacturers.
--------------------------------------------------------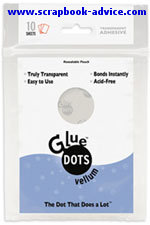 Glue Dots for Vellum - There is also a product called Glue Dots for Vellum. The problem with using a regular adhesive to adhere vellum is that quite often the adhesive actually shows through, especially on the darker colors of vellum.



Frosted Photo Splits - There is also a product called Frosted Photo Splits that is supposed to work with Vellum, but I have not yet seen it or had an opportunity to use it.




--------------------------------------------------------

Tabs or Mounting Squares
- These are the
most commonly used
scrapbook adhesives. (Found on page 1 of the
Adhesive Store
.) They are double sided stickers or splits, ½ inch square, that can be rolled out from a dispenser or placed on a surface by hand.

These are usually permanent, but I have found that they can be gently removed if they have not been pressed into place very firmly and shortly after they have been stuck down.

They usually need to be applied one at a time and do leave the little ½ inch square tab from the one side of the protective backing that needs to be thrown away.

These can be bought at any Scrapbook store, or large discount store in the crafts or scrapbooking section. These are made by several manufacturers.


--------------------------------------------------------

Glue Pens & Glue Sticks - (Found on page 2 of our Adhesive Store) There are a number of Glue Pens by a number of manufacturers. The width of tip may vary from very fine to wide and chiseled.





The nice thing about these Zig glue pens is that you can actually see the size and shape of the glue applicator tip on the outside of the pen.

Scrapbook Adhesives Tip: The Zig 2-way Glue Pen actually goes on with a tinted color so you can see where it is going and then turns clear. The 2-way portion means that the glue is temporary when adhered immediately, but will become more permanent the longer the glue dries.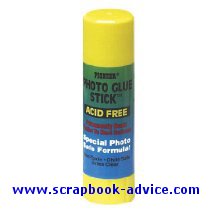 Glue Sticks are great as they are both permanent and acid and lignon free and are safe for scrapbooking. This one is round in shape and they also come in a large square shape.

Scrapbook Adhesives Tip: The Glue Sticks often go on with a tinted color so you can see where it is going and then turns clear. They are great for adhering very small items, like lettering or small embellishments. The Square Glue Stick is great for applying glue to the corners of things.


--------------------------------------------------------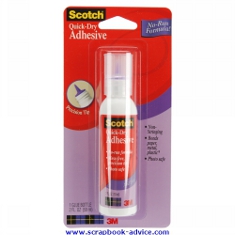 Scotch Quick-Dry Adhesive

I recently discovered this while attending the CK Convention in Charlotte, NC, a great new liquid adhesive in a plastic bottle called Scotch Quick-Dry Adhesive.

It comes in a 2 oz. bottle and it has a very fine tip that is awesome for spreading the finest glue line yet. It's great for adhering lettering, and small, intricate pieces for your scrapbooking layouts and card making. And, No Smell.

I have been using this Scotch Quick-Dry Adhesive for 4 months now at least several times each week for scrapbook layouts and cards. That extra fine line that the bottle top dispenses really makes this last. I probably have 1/3 of it left and it has become one of my favoite adhesives, so I am getting ready to order more of it. It's one of the best Liquid Adhesives I have found.


--------------------------------------------------------
Stickles Liquid Pearls & Glitter Glue
- (Find Liquid Pearls on page 25 and Glitter Glue on Page 12 of our Adhesive Store)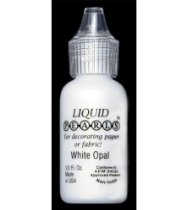 The Stickles Liquid Pearls will provide a 3-D and elegant opalescent look to paper or fabric. Dot, draw, outline, color-in, write, glue, border and paint or even use the Pearls as a color wash. Perfect for adding bling, glamour and elegance to any craft. The easy squeeze bottle features a fine nib dispenser tip for superior flow control.








Stickles Glitter Glue comes in little 1/2 ounce bottles. Acid free and non-toxic, it is great for paper crafting, scrapbooking and cards. Add stickles to your art to bring sparkle and bling to any of your craft projets. We have many colors available in our Adhesive Store.




--------------------------------------------------------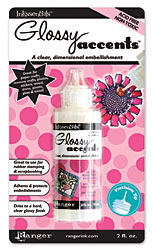 Dimensional (Glossy Accents) and Paper Accents
- (Available on page 12 of the Scrapbook Adhesive Store down below) Inkssentials Glossy Accents is a 3-Dimensional, water-based, clear gloss product made by Ranger. It can be used underneath an embellishment to adhere, or on top of an embellishment to add a glossy shine or even to magnify. It dries to a clear glass-like finish and securely holds dimensional items in place. Some even comes with glitter in various colors and some can be mixed with inks, paints, and powders for various artistic effects and even to protect.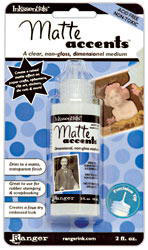 Also available are Inkssentials Matte Accents from Ranger which dries to a non-glossy matte finish for a dry embossed look on paper, plastic and metals.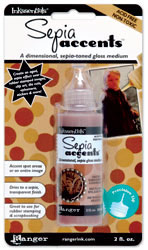 Inkssentials Sepia Accents from Ranger provides a brown-toned, dimensional gloss. It will provide an aged, antique look to projects on paper, metal, plastic and wood.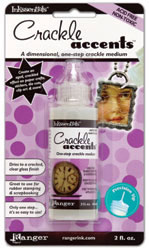 Inkssentials Crackle Accents is a one-step, dimensional, gloss medium that dries to a cracked finish and you can create that crackled look on porous surfaces.

--------------------------------------------------------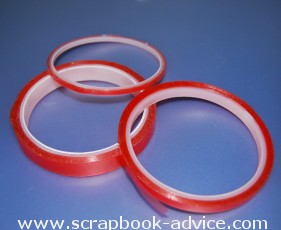 Extra Sticky or Red Line tape and sheets - Terrifically Tacky Red Line Scrapbook Adhesive or Kool Tak Ultra-Clear Premium Tape comes is a roll of 1/8" wide x 5 yards long as well as several other widths up to 2 & 3/4 inch by 30 yards. It is a dark pink in color and also comes in sheets 8 1/2 x 11.

(Available on page 8 of the Adhesive Store down below.)

This is a permanent adhesive but needs to be applied carefully and only remove one side of the backing at a time. This is probably the stickiest ultra-strong adhesive around and great for larger items, when a smooth expanse of glue is required.

Scrapbook Adhesives Tip: This red line tape is also heat resistant. So, if you want to have a perfectly straight line of embossing, lay down a strip of this red line tape, shake on some embossing powder or even flocking, heat away with the heat gun and Voila! You have a perfectly straight line of embossing or flocking with crisp edges and the tape is not damaged.


--------------------------------------------------------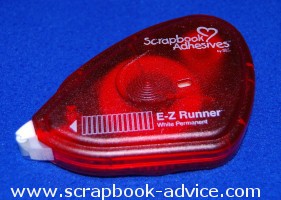 Tape Runners - Double-stick tape is available in dispensers and by the roll. They can be both permanent and temporary. Adhesive tape runners leave behind a continuous tacky strip when dragged across a surface.

This particular EZ Tape Runner, as you can see from the image on the applicator, leaves little strips of adhesive. This is a great if you need to apply the scrapbook adhesive around a curve.


(The Tape Runners are available on Page 4 of our Adhesive Store.)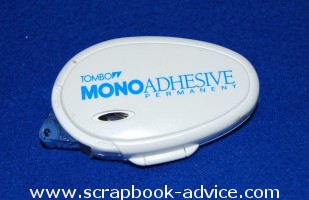 This Tombo applies the adhesive in one continuous line.

The applicator and the tape is initially purchased together, and with this Tombo brand, refills are also available.





--------------------------------------------------------

Spray Adhesive
- I have not used any Spray Adhesive myself for paper crafting so I can't tell you which brand is safe for scrapbooking. I have heard that there is an acid free, photo safe spray adhesive. However, I have used it to adhere a paper pattern to glass, prior to cutting the shapes for a stained glass window pattern.
This type of adhesive will cover a large surface area very quickly and evenly and I have heard that it is great for adhering fabric and vellums due to the even coverage of glue when applied with a spray. The spray adhesives I have used for my glass crafting have been temporary, but if they remained stuck too long, I could at least wash the paper off the glass.
--------------------------------------------------------

Temporary Scrapbook Adhesives