Copic Marker Store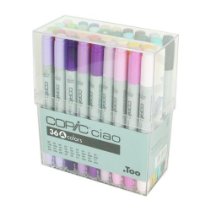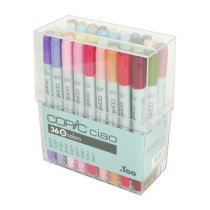 The Copic Marker Store has for you all the Marker colors which are fast-drying, double-ended markers available now in 344 amazing colors.  

COPIC's are permanent, acid free and non-toxic which makes them perfect for your scrapbooking and card making, calligraphy and other graphic arts.  The nibs are replaceable and they are refillable.  They can also be used with an inexpensive Air Brush System that takes only a few seconds to hook up and start using.  


They are
dual pointed,
and give very consistent color and blend beautifully without showing the actual drawing lines.  They are the choice of professional designers worldwide.  The broad nib offers a smooth and consistent coverage for larger areas, while the fine nib allows for very accurate detail work.

The Copic Original Marker
The Copic Original Marker has a rounded square barrel which keeps the pen from rolling off your work surface. It comes with both a Chisel end and a Broad Nib end. There are also 7 additional nib shapes available and these markers are refillable.
They are available from the Copic Marker Store individually, in sets of 12 Basics Colors, 12 Bright Colors and 12 Pastel Colors.
There is also a set of 36 comprised of Basic Colors with Greys and Blues.
There are also 3 Sets of 72 each, Set A, B and C. That gives a total of 216 colors.
To Purchase:
---

The Copic Sketch Marker
The Sketch Marker is a little larger than then original marker, and comes with an Oval Shaped Barrel. The double ended marker comes with a Chisel point on one end and a Brush on the other end. These are available in the Copic Marker Store in sets, individual pens, or the re-inkers.
The inter-changeable nibs are also available for these markers and they are also refillable. They can also be used with the Air Brush System.
I think this is probably the most popular as it comes in 346 Colors, plus 12 new colors for 2012. Those new colors are listed in the chart below:
To Purchase:
| | | |
| --- | --- | --- |
| Color Number | Color Name | New for 2012 |
| BV 34 | Bluebell | |
| V 22 | Ash Lavender | |
| V 28 | Eggplant | |
| RV 52 | Cotton Candy | |
| R 56 | Currant | |
| YR 27 | Tuscan Orange | |
| G 43 | Pistachio | |
| G 46 | Mistletoe | |
| BG 57 | Jasper | |
| BG 90 | Gray Sky | |
| E 84 | Khaki | |
| E 89 | Pecan | |
---

The Copic Ciao Marker
The Copic Ciao Markers are a little smaller in size, have a Round Barrel, hold a little less ink and are a little less expensive. They come with the Brush and Chisel Tips, just like the Sketch Markers.
They are currently available in the Copic Marker Store in 144 colors, and come in a Basic set of 12, a new set of 24, and and A, B & C set of 36 colors each.
To Purchase:
---

The Copic Wide Marker
The Copic Wide Marker is made for filling in large areas of color. These have the wide chisel tip and are refillable and are also available in the Copic Marker Store.
From the Copic Marker Store:
---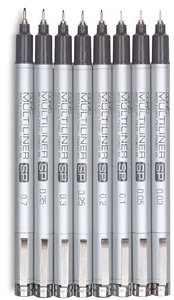 The Copic Multi-liner Sets
These Copic Multi-liners are pens with the same ink as the copics, but in various sizes of points. These are great to use if you have used a rubber stamp and part of the image did not stamp. You can go over where the lines should be and make a correction instead of throwing away your image.
They are available individually or in sets with one of each size. They come in black, and Sepia tones and there are also Colored Multi-liners in 3 sizes and 11 colors of Yellow, White, Turquoise, Sky Blue, Red, Purple, Pink, Orange, Olive, Cool Grey and Cobalt Blue.
Click here to purchase from Dick Blick Art Products.
---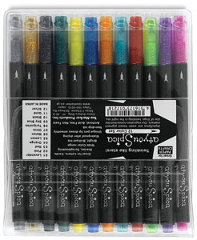 The Copic Spica Glitter Pens
The Copic Spica Glitter Pens are my all time favorite Glitter Pens. They write smoothly, never hang up and I have yet to have one dry out after several years. They are a fine point and deliver just a great touch of glitter to your art work.
There are 24 colors available in the Copic Marker Store in 2 sets of 12 each.
Set A shown above comes with Lavender, Pink, Red, Orange, Lemon, Melon, Olive, Turquoise, Sky Blue, Black, Gold and Silver.


---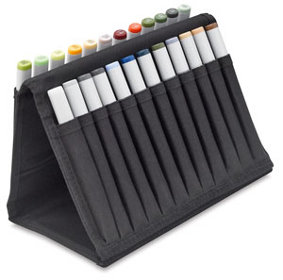 The Copic Marker Wallet Storage Sets
The Copic Storage Sets are really nice to take to a crop or another location to do your coloring work. Made of a heavy weight black nylon, the fold up for carrying them and for storage and then open and stand up to display your markers for easy color identification. These are also available in the Copic Marker Store.
---
The Copic Marker Pads
From the Copic Marker Store:
Our Copic Store below has a wide selection of Copic Brand Ciao and Sketch Markers, Wide Markers, Glitter Pens, and Drawing Multiliner Pens.

In addition we also have Copic compatible paper pads of varying size and Sketchpads. And finally, our Copic Store also has replacememts parts, storage containers and Air Brush Systems to help you get the most out of your Copic Markers.
Use the scroll bar at the bottom of the box to scroll to the right and see your Amazon Wish List; search for other products; or see product reviews.


When you purchase from our stores at Scrapbook-advice.com, you are actually
purchasing from the Amazon.com. Copic Marker Store
All orders go through Amazon's secure order server.
If you have any questions, please Contact Us.
And to learn how to best use your Copics, check out the great learning options from Annie's.


Back to Merchandise Stores

Check out our Journaling and Scrapbook Pens page

Home Page from the Copic Marker Store