Scrapbook Journaling for Beginners
We will walk you through the process, step-by-step
Step #9 - Journaling
A Scrapbooking Basic


The Quick Start Guide of Scrapbook Journaling for Beginners.

1. Gather Related Photos.
2. Determine the Predominate Color.
3. Determine Theme or Context.
4. Pick papers - Based on your colors, theme or content.
5. Collect your tools.
6. Matte the photos -- if you want to.
7. Test fit the photos to the page size and adhere to the layouts.
8. Add Embellishments or other goodies -- if you have them or want them.


9. Add the Scrapbook Journaling or save it for later.


10. Get your scrapbooking photo album and load the pages in your album and show off...


Adding the Scrapbook Journaling?
Scrapbook Journaling is something you can do now or later
- or just not do at all. However, I am always sorry when I go back and look at some layouts I have done that do not have any thing to tell me the basics about the photos. You know - at least the
typical who, what, when, where and how.
When to Do Your Scrapbook Journaling?
Scrapbook Journaling does not have to be done now. If you don't have time to do it now or the muse is just not working for you now, at least
jot down some notes
on what you want to say and attach it to the page. You will remember more now than later.
Tip:
If you use a sticky post-it however, which I use all the time, don't attach the post-it to your photos or your scrapbook paper as it will leave a little residue that may not be scrapbook safe and you may have some damage later on down the line. Put that post-it on the outside of your page protector.
Kinds of Scrapbook Journaling?
Journaling By Hand -
Scrapbook Journaling can be
done by hand in your own handwriting.
I have a lot of friends that don't care for this method because they don't like how their handwriting looks. If that's the case,
try writing by hand using calligraphy pens and inks.
Check out our page on
Calligraphy Pens
to get an idea of the pen types and colors available and even a book to show you how. You can practice a little to make your handwritten scrapbook journaling look great!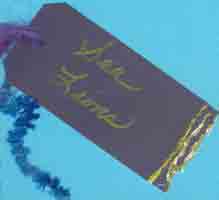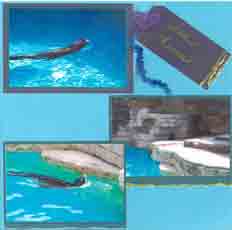 But think of it this way: If you were looking at a scrapbook that a departed family member left for you, wouldn't you find their own handwriting an important part of the layout. I'm not saying do all the journaling in your scrapbooks by hand, but at least consider this option on some layouts - maybe those layouts that are strictly about you - the Book of Me layouts.

Tip: For hand scrapbook journaling, you can always test write it to make sure you can fit into your space before you actually write on your page. Or, write on a separate background and attach it in the form of a tag or matted block like above.

Tip: If you are concerned about writing level without the benefit of lines, write your final product on a piece of vellum and place it over a piece of lined notebook paper to use as a guide.

Tip: Or, there are such things as scrapbook safe pens with disappearing ink. You can draw your journaling lines on the paper with a ruler, write your text, and then leave the page exposed to air and light for a while and the disappearing ink lines will soon be gone.

Tip: There are also Scrapbook Journaling Stencils that you can use to help you position your journaling. Place them on your paper and write inside the open lines.


Journaling By Computer -
Scrapbook Journaling can be
done on the computer using any of the fonts available
on your computer and you can even
purchase new fonts to be added
to those that came with your computer applications. There are both web sites that have
free fonts
and fonts to purchase that can be downloaded and there are also fonts that you can obtain on CD's from other sources that can be installed on your computer.




Tip: When you journal on the computer, print it off on a test page to make sure your size and spacing will fit in the desired area. Then print on your actual scrapbooking paper. I like to use a light colored vellum paper to print my journaling in a dark color. And don't forget to test the Color of the Journaling. If you are going to be printing on colored paper, make sure the text will be dark enough or bold enough to see on your paper.

Check out more ideas for Fonts for Scrapbooking here.
Journaling With Rubber Stamping and/or Embossing -
Another interesting way to do Scrapbook Journaling is through
rubber stamping and/or embossing
using rubber stamp fonts. These are readily available in many sizes, mounted and unmounted, acrylic and rubber.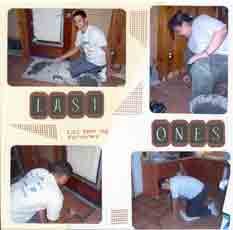 Tip: You can stamp out words or titles all together or individual letters on separate papers or letter squares, then cut them all the same size like tiles and arrange them in whatever order you want. They are much easier to space out evenly like this.

Tip: Another idea is to round the corners of the letter squares with a corner rounder punch, like these above. At the time I had just finished the tiling of the floor and I was personally tired of trying to align all those floor tiles and the square corners. I just wanted something a little different. In the layouts above, I also rounded off the corners of the photos.


Journalning With Stickers -
Letter Stickers are available to purchase in all sorts of
sizes, fonts, numbers, punctuation and colors.
These can be used on tags, in journaling blocks, directly on the paper - anywhere you want to place your journaling.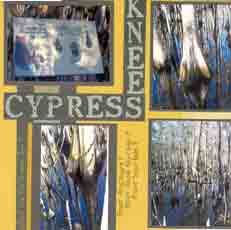 Tip: To evenly space your lettering stickers on your layout, place a ruler where you want your stickers to go and place the stickers flush with the ruler spacing either next to each other or the same distance apart using the marks on the ruler as a guide line.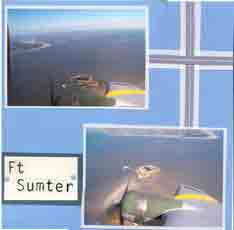 Tip: Not sure if your journaling will fit? Normally all of the stickers in a set will be the same size. Count the number of letters and spaces in your journaling and measure that number while they are still on the backing to see if that number will fit your alloted space on the page.


Journaling By Hand Cut Lettering -



The lettering on this Title page was hand drawn, cut out with scissors, inked with copper pigment ink, then embossed with clear embossing powder.

I wanted something large and flowing to resemble Windy's fur and to go with the color of the photo.






Journaling As a Brochure, Pamphlet or Program -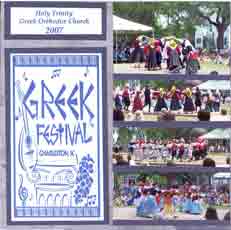 This layout was the beginning of several pages about the Greek Festival. The program was handed out at the event so I used it to provide the journaling to tell what the event was.

In addition,I made my own journaling block to match the program in color and width. I made it just tall enough to take up the rest of the page. It says where it was and when the festival took place. Journaling forms can be combined.

Journaling As a Newspaper Article -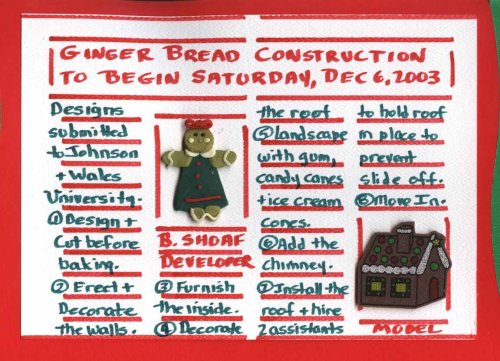 This was on a layout from a Cooking Class where we all made Gingerbread houses. There were no written directions, just my personal notes and I decided, since there were about 20 Gingerbread Houses, to put the directions into a newspaper article about beginning the construction.

Don't forget, you can also use a real newspaper article.


Journaling As a Photo -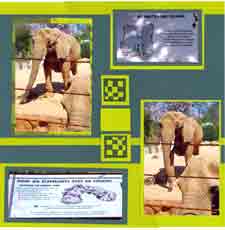 During our trip to the Zoo, I took photos of some of the signs that were posted telling us a little about the various animals.

I used photos of 2 signs on this page instead of trying to journal in another method.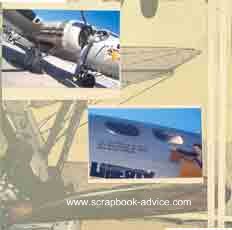 This layout of a B-17 aircraft uses a picture in place of journaling. The photo of the art on the nose of the aircraft provides the name of the airplane for this layout.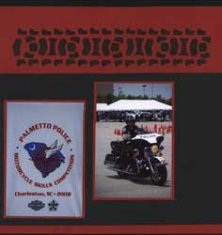 Heres' another instance of where your journaling doesn't really have to be "journaling."

The photo which shows the name of the event, was actually a photo of the commemorative T-shirt available at the event. A picture of a T-shirt is worth a 1000 words.


Journaling as a Cropped Photo -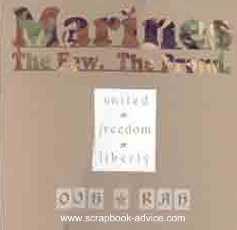 This layout uses a photo of the Desert Camouflage fabric from one of the uniforms and then a Die Cut was made out of the photo to spell out Marines as well as the motto "The Few, The Proud."

This is an interesting way to journal and you can always use this if you have any leftover cropped off pieces of photos. This was a purchased die cut, but I have made my own.





Journaling Scrapbooking & Idea Tip: You may actually want to take photos to use to crop for your layout titles or journaling.
* Use a cropped photo of the pumpkin patch for a Fall title.
* Take a photo of grouped Easter Eggs or decorated Cookies for an Easter or Spring journaled title.
* Try a close up photo of birthday candles on a cake to crop out the number of years old.
* Take a close up photo of tire tread to crop out a title for a NASCAR or any racing event whether cars, trucks, motorcycle or bicycle event.

Use your imagination on these - it could be fun. Start thinking scrapbooking and journaling ideas while you are taking those photos.


Journaling as a Purchased Embellishment -



Here in the layout on the left, the Air Force Medallion was purchased from a local craft store.

No other journaling is needed to know this is in Air Force plane.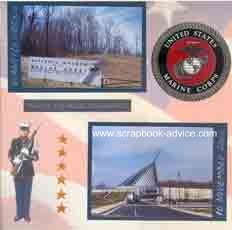 This Marine emblem of the Eagle, Globe and Anchor was purchased at the National Marines Museum at Quantico, Virginia.

The Stars and the Marine sticker were purchased at a local scrapbook store where there are a lot of Military type of Embellishments available.






Journaling as a Pre-printed Tag -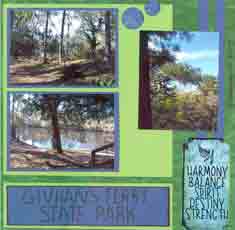 This pre-printed tag came with the February 2008 Refresh kit from ClubScrap.com as did the paper and everything else used on this layout. The text on the tag expressed the feeling for the day perfectly.

In addition to the pre-printed tag, I made a journaling title block on the bottom of the page, using the matching font letter stickers that came in the same kit.




Journaling s a Die Cut -
Below are 2 particular
Die cuts
that say what you are trying to convey with your Scrapbooking Journaling in the layouts you would use them on.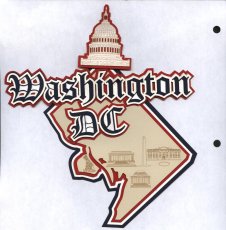 Where to Put the Scrapbook Journaling?
Consider your journaling as a block,
just like another photo. But these
blocks can vary in size and shape.
If you have a lot to journal, and want to put in a lot of detail,
leave several white spaces or one large one
to hold your journaling.
If all you want is a title naming the event and possibly the date, leave just enough "white space" to do that. (When I say white space, I don't mean literally white - I mean blank space - the area that your photos and photo mattes are not covering.)
Where to Get Scrapbooking Journaling Ideas?
There's a great little e-book called "Journaling That Matters" from Ella Publishing by Angie Lucas and Kelly Jeppson that will help you find the right words for your Scrapbook Journaling.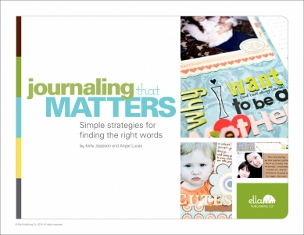 This link will take you directly to Ella Publishing to purchase their book.
Journaling That Matters
But don't forget about these ideas.
Maybe you did some
note taking during the event
and you already have some things written down.
Was something
particularly funny at that great party
- a funny story or comment that just seemed to dominate the party.
Was there a particular
phrase that caught your attention
at a wedding reception speech?
Were you on a
tour of a vacation city?
Did you take
notes during a tour?
Recompose them and put them into some journaling blocks?
Do you have some
information from the back of a post card
that you picked up. You are using the post card in your layout - used the text from the back of the card to put in a journaling block.
Did you have photos from a Retirement Party? Who was the retiree, how long had they worked there and how did they come to be employed there? Was there
a fact about the person that you did not know and discovered at the event?
Did you go to a graduation ceremony and hear a particularly
moving speech or a single phrase
that was inspiring and you want to remember it - don't forget the name of the author.
Maybe you will see a
billboard or a piece of advertising
that catches your eye or brings a laugh that may inspire your Journaling. Like the "Got Milk" ad.
Inspiration Can be Everywhere!
Don't By Shy About Scrapbook Journaling on Your Pages
Now that you have Added the Scrapbook Journaling ... Go on to Step #10 - Load your Album

Calligraphy & Scrapbooking Pens for your Hand Written Scrapbooking Journaling.

Special Ideas for Halloween Scrapbook Journaling

More ideas with Fonts for Scrapbooking

The Complete 10-Step Quick Start Guide for Scrapbooking for Beginners

Home Page for Scrapbook Advice