Post-It Papercrafting Items
by 3-M
3M Post-It Craft Paper

I recently had the opportunity to test out the New Post-It Papercrafting Items by 3-M
and I was really impressed with the strength of the adhesive on the back,
the fact that it is repositionable, the quality of the heavy weight paper
and the many great colors.
---
---


Post-It Papercrafting Items Craft Paper - It comes in 8 1/2 x 12 inch
sheets, making it great for cutting borders for your 12 x 12 inch scrapbook
layouts or for running through your Cricut or Wishblade.
It comes in Black, White and shades of Beige as well as Aquas,
Blues, Greens, Yellows, Yellow-Greens, Oranges, Browns, Reds, Pinks,
and Purples.

Here are some single layouts we put together at the class I took at the
CK Convention in Charlotte, NC the summer of 2010. This new Post-it
Craft Paper is great for use with your Cricut machines, Wishblade,
and Die Cutting machines like Spellbinders - I have tried it
on all three of these and it works great. It also works well with
scissors and a craft knife and does not make your cutting utensils
sticky, either. Great Post-It Papercrafting Item!




For these two Scrapbook Layouts we used Black, Blue, Red, Green and
Yellow 3M Post-It Craft Paper. The page on the left was made from
a design used in the CK Convention Class. The page on the right
was made by me using some of the stash of Craft Papers received
as part of the class kit. I actually had about 20 different colors.

The background paper used for these layouts was "Designer Paper"
from g.c.d called Colored Birds from the Artsy Urban Collection.
The background has many primary colors and they all seem to match
the colors in the 3M Post-It Craft Papers. A Great mix for the Post-It
Papercrafting Items.

We punched 2 birds from the Blue, & two flowers along with some leaves
from the green paper. For one of the flowers, we applied crystal
glitter to the back of the paper directly to the adhesive.


---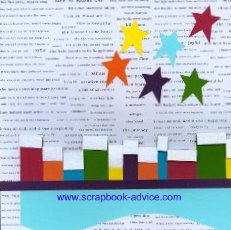 For this layout we tried a new technique that I had not seen done
yet. We layered a border on the bottom of the white paper with
words, also from g.c.d Designer Paper called Book Page from the
Artsy Urban Collection.

We cut a number of different widths and heights of the various colors
of the 3M Post-It Craft Paper and adhered the bottom portion of each
to the base of the bottom border. We rolled the top of each of those
strips over and sprinkled with a crystal glitter.

The stars were punched out of various colors of the Post-It Craft Paper
and adhered to the top of the page.
I thought this page looked very celebratory so it will be used as the
front page, by itself, in an album about a retirement party. I will
highlight the words on the page appropriate to the occasion.

These lovely Post-It Papercrafting Items in primary colors can be used
for just about any occasion of scrapbook layout or greeting cards.


---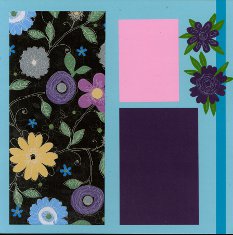 Here's another beautiful layout using the 3M Post-It Craft Paper in the
Purple, Pink, Aqua and Green. The background is a light blue
from my stash, the printed flowers on black is another g.c.d.
Designer Paper from the Artsy Urban Collection called Dark Floral
with Glitter.

The Purple is used as a Photo Matte, the Pink is used as a journaling
box, the Aqua stripe accents the right side and the Flowers and Leaves
on the left are hand cut from the purple and green to anchor the
stripe. All very easily attached and repositioned just as easily
as a Post-It Note.


---


I like the color combination of the g.c.d. Floral and the Purple Post-It
Craft Paper that I made 2 more layouts after I arrived home using
both the Dark and Light Floral from that collection.

I cut the White, Black and Purple 3M Post-It Craft papers into
3 layered Scalloped Frames using a stencil I received from Paper Wishes.

Positioning them to be centered was relatively easy since the adhesive
is re-positionable.
Quick and Easy with the Post-It Papercrafting Items.

_____________________________________________



_____________________________________________


And, just like Post-it Notes, the adhesive clings very well.
I made these layouts in early August and they had to stay in the car
for several weeks in the hot summer sun while I was traveling
and the adhesive is still great, and can still be repositioned,
just like regular Post-it's. That's Awesome!
Hooray for 3M on this great product.


---
---
I quite often put together what I call naked Scrapbook layouts
- that is layouts without photos. I show many of those layouts
here on this website. I have to admit though, sometimes when
I have photos I want to put on those layouts, I need to rotate
a photo matte from horizontal to vertical or vice-versa.
These 3M Post-It Craft Papers will work very well for that purpose
and I won't have to re-apply the adhesive either.


---
---
Aside from the ease of working with pre-adhesive scrapbook paper,
we also used the adhesive side to adhere glitter and flocking.
This worked nicely as there was an even amount of the adhesive,
so no clumping of the glitter or flocking where there used to be
a clump of glue.


---
---

Another great thing about the Post-It Papercrafting Items- the
adhesive backing was very easy to remove from the back of the
image with just a slight roll of the finger over the cut edge.
No struggling to find just the right
little piece to grab and no need to use the end of a pointy tool
(technical term, there) or craft knife.


---
---

I found the many colors worked well with many other papers
and they come in a great assortment of colors, as you can see
from the graphics on this page.


---
---
Scotch Quick-Dry Adhesive
I also discovered this new addition to the Post-It Papercrafting Items
while attending the CK Convention in Charlotte, NC.
A great new liquid adhesive in a plastic bottle
called Scotch Quick-Dry Adhesive.

It comes in a 2 oz. bottle and it has a very fine tip that
is Awesome for spreading the finest glue line yet. It's great
for adhering lettering, and small, intricate pieces for your scrapbooking
layouts and card making. And, No Smell.

I have been using this Scotch Quick-Dry Adhesive for 4 months now
at least several times each week for scrapbook layouts and cards.
That extra fine line that the bottle top dispenses really
makes this last. I probably have 1/3 of it left and it has
become one of my favoite adhesives, so I am getting ready to order
more of it. It's a Great Post-It Papercrafting Item.
---
Post-It Photo Paper
Quite some time a picked up some Post-it Picture (Photo) Paper - the
same concept as the Post-it Adhesive on the back. I used what I had
to print some photos and although it has been several years
since I printed those first photos, they have held their coloring
and have not faded.

Just like the adhesive on the Craft Papers, those photos are firmly
attached to the scrapbook layout, but I tried and I can still
move them off without tearing either the photo or the scrapbook
page underneath.
Totally repositionable Post-It Papercrafting Items.



---


I hope you find these personal reviews & recommendations of the Post-It
Papercrafting Items helpful. Get these and more in the 3-M Post it
Store below.

Use the scroll bar at the bottom of the box to scroll to the right and
see your Amazon Wish List; search for other products; or see product reviews.

____________________________________________




____________________________________________


When you purchase from this page, you are actually purchasing from
Amazon.com. All orders go through Amazon's secure order server.
If you have any questions, please

Go back to the Scrapbook Adhesives Page
for more ways to adhere your crafts.

Go to the Scapbook Tutorials Page for more How-To's

Go back to Scrapbook Advice Home Page from Post-It Papercrafting Items


Looking for Something
on our Site?
---
Have a Question?
for scrapbook-advice.com
---

---
---
You will LOVE them for all your Scrapbooking Supplies!
---
CREATE FOR LESS
One of My FAVORITE
Places to Purchase
all sorts of
Craft Supplies
---


Ella Publishing - FREE
E-Book to Download
A Great Sample of their Work!


---
Need a Chocolate Fix?
Check out Luxury Chocolates
from zChocolate.com
---