Bargello Scrapbook Embellishments


So before making Bargello Scrapbook Embellishments, we need to know what "Bargello" is.

According to Wiki, Bargello is a style of piecework in which fabric is first sewn in horizontal strips, then cut and arranged in vertical steps to produce undulating designs.


Or according to the Glossary of Embroidery Techniques, Bargello is
Long stitches worked on canvas in vertical stitches, forming peaks or points.
By varying the colors, shaded effects can be produced. Also, called flame work or Hungarian point. The design above is Bargello done with wool yarn and elongated stitches.
As in many cases, a picture is worth a thousand words, and the example at the top of the page is a good one.
Bargello Scrapbook Tutorial
Working on the same idea as the Bargello Needlepoint, this tutorial will show how easy it is to make the bargello paper designs version of a Bargello Scrapbook Embellishment.

* The only tools you will need are paper or card stock, 3 coordinating colors or maybe add a 4th patterned piece to coordinate.
* A paper trimmer to cut your paper or card stock into strips.
* An Adhesive. In this case I used a Glue Stick, but you could cover the entire base of the card with a double sided adhesive like carpet tape or run it through a Xyron machine.
* A Pair of scissors.
* About 20 minutes.










To Begin your bargello paper designs, cut your paper or card stock into strips or ribbons. Your strips can be different widths or the same width - I vary mine from 1/8 inch wide to 1/2 inch wide.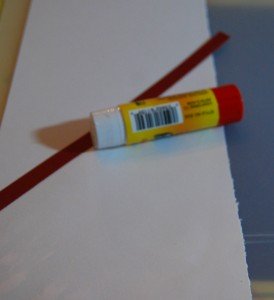 The white card stock is the base - this one is 7 x 12 inches and will eventually be used as a border for a patriotic scrapbook page. You can make your base any size you want for your finished product.

Take one of the paper strips and glue it to the base at an angle making sure the strip runs off the base at both ends.

You can put the glue on the back of the strip or on the base.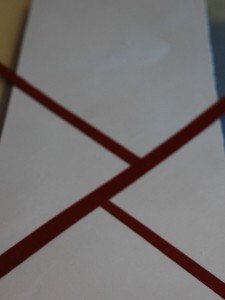 Then take 2 more strips of the same color and position them horizontal to the existing strip - extending out in both directions.

After applying your adhesive, butt the square ends up to the edge of the existing strip. scrapbook-advice.com tip: Be careful here that the strips are positioned at a 90 degree angle. There should be no problem if the ends were square when you cut your initial strips.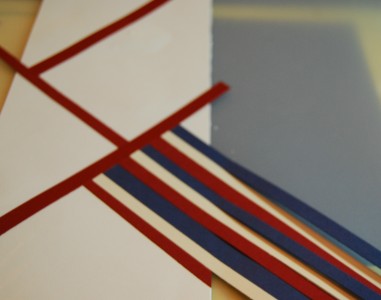 Taking the rest of your strips, fill in each section with new strips in alternating colors. Butt each new strip up to the first, on the end and one side, so that the color of the base paper does not show through.





You will need to trim off the excess length of the glued down strips as the piece will get a little difficult to handle.

After you trim these off, some will be long enough to use again, but be sure you use the end that is squared off.










Trimming off the excess long strips might be easier if you turn the piece over and trim from the back.










Finish the rest of the sections until you have completely covered your base piece with paper strips.

Again, you will need to carefully trim.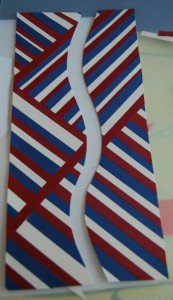 Here is the final piece.

I wanted to use these Bargello Scrapbook Embellishments for a top and bottom border on the Obama Inauguration Layouts pages that I did, so I have cut it in half in a wavy pattern to represent a flag waving.

The background paper I had was only 12 x 12 inches, but my book had pages that were 12 x 15 inches and I needed something to add to the paper to make it cover the 15 inches.

Click here to see the Obama Inauguration Scrapbook.


Bargello Scrapbook Embellishments
for Card Fronts
These Bargello Scrapbook Embellishments would be good for borders, tags, frames, journaling blocks or to be used on greeting cards.
Scrapbook-Advice.com Tip:
Branch out a little from your bargello paper designs and use some ribbons, or a combination of papers and ribbons.
No matter how many you do using the same colors, no two will look exactly alike.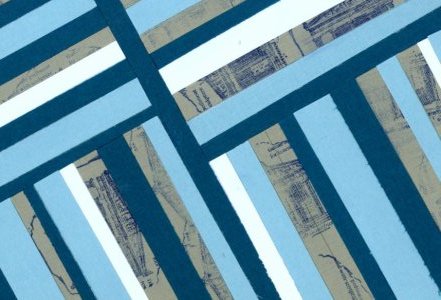 Bargello Scrapbook Embellishment Options
Here is another option for the Bargello. Here I used
foil papers cut into strips
. The strips were cut with a wavy edge rather than straight. I ran the entire card through a Xyron to put a layer of adhesive over the entire surface. You could also use any double sided tape like carpet tape.
Scrapbook-Advice.com Tip:
When I applied the strips, I left a small space between the strips with the adhesive exposed. Another twist to your Bargello Paper Designs.
For a variation on this one I sprinkled Gold Embossing Powder on the exposed adhesive and heated with a heat gun.
Scrapbook-Advice.com tip: Then I added a pink rhinestone accent over on the right, just to spruce it up a bit.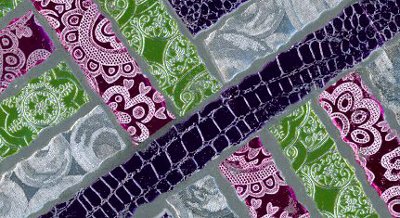 For this one I sprinkled Silver Embossing Powder on the exposed adhesive and heated with a heat gun.

I hope you can use some of these ideas to make your own beautiful Bargello Scrapbook Embellishments.


Have Fun!
Check out our other Scrapbook Tutorials for
Scrapbooking & Cards

Go to the Quick Start Guide - Scrapbook Embellishments for more ideas.

Go back to Home Page for scrapbook advice from Bargello Scrapbook Embellishments