Scrapbook Page Kits
Sometimes I turn to pre-made Scrapbook Pages or Scrapbook Page Kits in order to finish my layouts. It might be because I have been doing a lot of scrapbooking and I have run out of creative ideas. Or it may be because I am in a hurry to finish up my work. Oftentimes it's just because I like a layout that someone else has done and it fits my photos perfectly.

We have a compliment that we often pay to fellow scrapbookers when we see a layout that we really like.


I am going to CASE that!

Copy And Steal Exactly!
After all, once you put your own photos on your layout, it really won't look the same, will it.
When I receive a kit, I like to put together a few layouts which allows me to get very familiar with the contents. Then, when I have some photos that match the color (my first requirement), I search to find some that will work with the photos.
I can take my time working on the detail of the layout and then when the photos arrive, they are on the page very quickly and ready to put in my own book or to give as gifts.
Here are some links to some layouts of mine that are assembled from Kits. Some have Photos, most do not.
Die Cut Page Kits
DieCut Page Kits from Dillon's Lazer Designs


These are double page Scrapbook Page Kits usually 12" x 12" die cuts that are packaged with a background paper that fits nicely with the theme of the die cut.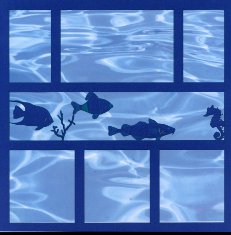 ---
DieCut Page Kits from Scrap-E-Do


These are Single Page Scrapbook Page Kits of 12" x 12" Die Cuts that have a background sheet that coordinates in color or theme, that can be used either as a background for the Die Cut or for the coordinating page. I like to use these one pager Layout Kits like title pages to my themed scrapbooks.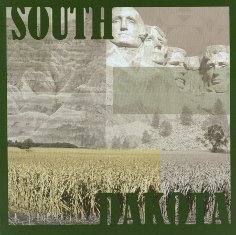 ---
Mosaic Moments Page Kits
I just love this interesting and easy way to cut my photos into mosaic type squares and I am sure you will too when you see how easy it is to create some totally awesome scrapbook layouts. These are Scrapbook Kits for double page layouts.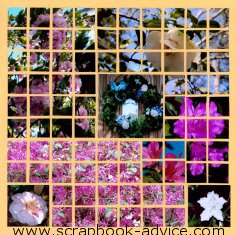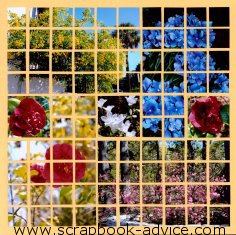 You don't have to cut your photos to use these great kits, as you can see below. Sometimes you can just use a great patterned paper or a coordinating solid paper for the "Mosaics."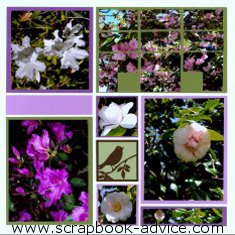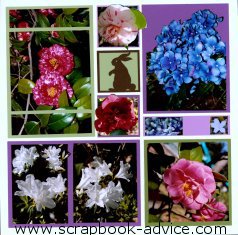 There are lots of options currently available, so check out more detail on the kits available, at
Mosaic Scrapbook Pagekits from Mosaic Moments


---
Firefighters Scrapbok Page Kits
I have put together a collection of papers and embellishments making up Layout Kits with the Firefighters theme as they seem to be little hard to find from time to time, but their is just no substitute for the right album and embellishments. Hopefully you can find what you want here.
Firefighters Scrapbook Supplies & Kits


Military Scrapbook Page Kits
I have readers every day that are looking for items to scrapbook for our Military Heroes and I have have put together some pages that I hope will help you find just the right Layout Kits for your Air Force, Army, Navy, Marines or Coast Guard scrapbook layouts. Let's honor our military as they should be honored.
Military Scrapbook Supplies & Kits


Heritage Scrapbook Page Kits
Here are some examples of Heritage Scrapbooking Page Kits that will give you an idea of what is currently available on the market.
Heritage Scrapbooking Ideas & Kits


---

Finally I show you some Scrapbook Page Kits with Moving Parts from the Chocolate Truffle & Gridlock Collections

That I picked up at a Scrapbook Expo in Atlanta, Ga. These were what I call Make & Takes that can be picked up and put together while at a Scrapbook Convention, Expo or Retreat.

Kits with elegant Die Cut Papers from Creative Imaginations


We will be adding more information on Scrapbook Kits as we find them available.
So pick up on of the numerous Scrapbook Page Kits and take the easy route, especially of you are just getting started.
Check out our Site Map to see all our page options

Or, the Home Page for general Scrapbooking Advice

Check out our 10-Step Quick Start Guide
of Scrapbooking for Beginners

Or the Layout Gallery for more Ideas from Scrapbook Page Kits