Intermediate Scrapbooking Tools
These Intermediate Scrapbooking Tools will enable you to spruce things up and add some special looks to your pages or layouts.


Decorative Craft Scissors


Decorative Craft Scissors with blades that cut various shapes and give the edges of what you cut some personality.


Scrapbook Paper Punches


Scrapbooking Paper Punches which punch shapes out of your paper for you to embellish your pages with.


Crop-a-Dile


Crop-a-dile - Hole punch and eyelet setter in one. This tool will cut two sizes of holes for brads or eyelets, 1/8 inch and 1/16 inch through very thick paper or several layers of card stock. Then, once the hole is punched, the front end of the tool is used for setting the eyelets of various sizes and shapes. It's quiet and easy on the hands to use.

The Case that is available, holds the Crop-a-dile very nicely and comes with an assortment of eyelets in 2 sizes and eight colors. The inside of the case has compartments to hold the eyelets that keep them organized. When the cover is closed they will not migrate to another section if the case is turned over.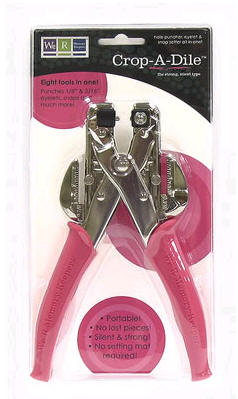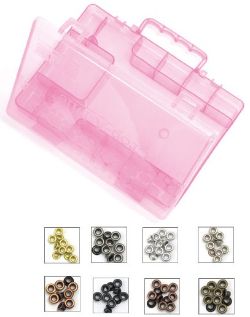 Xyron Create-A-Sticker


Xyron Create-A-Sticker makers can laminate adhesive to paper or flat embellishments of various shapes up to 5 inches wide.


Scrapbooking Chalks


Colored Scrapbooking Chalks which can add an artist's touch of dimension to your layouts, die cuts and paper edges. They come in a variety of brands and packages with 8, 12 or 24 colors, and usually with one or two applicators, but can also be applied with Q-tips, makeup sponges, tissue or even your finger tip. These are made for scrapbooking in that they are acid free.


Scrapbooking Inks


Scrapbooking Inks that come in single color pads and various collections of colors like the ones from Clearsnap.com that can be used with rubber stamps, hand held stylus tools, or in a direct-to-paper method directly from the stamp pads.


Stencils


Stencils for guidance in applying Scrapbooking Chalks or Inks in various patterns. Or for using Caligraphy or Scrapbook Pens for your Font Stencils and Lettering.


Rubber Stamps


Rubber Stamps can be used with the Scrapbooking Inks for stamping images for a lot of different techniques. You can repeat an image to design your own background paper or border. You can use an image to highlight the theme of your layout. You can use Rubber Stamp Fonts to add Titles and Journaling to your pages.


Embossing Supplies


Embossing Supplies are normally used in conjunction with Rubber Stamps and Scrapbooking Inks, to highlight your stamped images with raised color and give them an elegant and professional appearance. Your basic "Embossing Supplies" would include Ink, Embossing Powders, and a small Heat Gun. More to Follow. We are currently testing the Intermediate Scrapbooking Tools.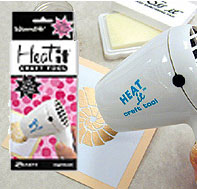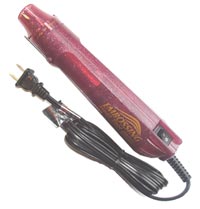 Die Cutting Machines


Another of the great Scrapbooking Tools available are Die Cutting Machines to cut shapes and fonts, like the Spellbinders Wizard. The special thing about the Spellbinders machines, you can not only cut, you can also emboss and stencil all at the same time.


The
Spellbinders Wizard
has many shapes and sizes of dies. Here are some examples of the Scrapbooking Tools
Nestabilities and Shapeabilities to add to your Scrapbooking Tools. The Nestabilities are dies that cut the same shape, but in several different sizes.
Here is another example of
Nestabilities
.
And here is an example of the
Borderabilities
. These neat Scrapbooking Tools make great edges for your A-2 cards and the
Grand Borderabilities
make great edges for your scrapbooking pages as they are 12 inches long. Just like the Nestabilities and Shapeabilities, these can be cut, embossed and stenciled.
The next Scrapbooking Tools to show you are the
Frameabilities
from Spellbinders. These dies make wonderful frames for your A-2 cards or to frame a photo on a scrapbook page. Also included in the Frameabilities package are other matching embellishments that can also be cut, embossed and stenciled.
Next on the list of Scrapbooking Tools are the
Impressabilities.
These are perfect for making background images for the front of you A-2 cards or for a photo matte.
New to the list of scrapbooking tools are the
Megabilities
, extra large dies by Spellbinders. These are great for your larger size cards and scrapbook layouts.
These Spellbinders Scrapbooking Tools are just a few of the selections that you have in Die Cutting machines. I have only shown you a sample of each type just to explain the differences. Spellbinders comes out with more every month and some are made on a limited edition basis.
Go to the Spellbinders Store to see more Spellbinders options.

Back to Scrapbooking Tools

Go Back to Home Page for general Scrapbooking Acvice