Police Scrapbook Layouts


These 3 pair of Police Scrapbook Layouts were all made with the Club Scrap Kit Wheel & Sprocket (August 2006). What a great kit to use for the photos from the Palmetto Police Motorcycle Skills Competition held in Charleston, SC annually in July.


Police Scrapbook Supplies Store

Our store is at the bottom of this page.
We have recently added a section in our Police scrapbook Store for patches.
We have an assortment of actual Police and Sheriff patches
for use on your scrapbook pages or if you just happen to be a collector. Don't see what you want? Just click on one and go into Amazon.com and search for what you want.
We also have another page on the Police Motorcycle Scrapbook Layouts from the Palmetto Police Motorcycle Competition held in March 2011 put on by the Charleston County, SC Sheriff's Office here at the
Motorcycle Competition Scrapbook,
with some scrapbook layouts, great photos, and a couple of videos on some of the competitive events.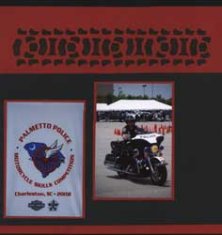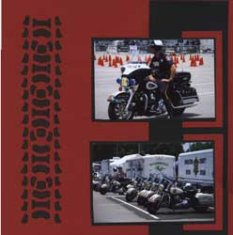 It never ceases to amaze me about the Club Scrap kits. I always find a use for the theme, either with photos I already have, or within a few weeks of receiving my themed kits.
This particular kit came with rubber stamps and a stencil that resembled small and large tire tread and it works wonderfully with these photos or photos of
any riding, driving or racing event, be it personal or professional.
Some of the
background images
on these papers are difficult to see in the small photos of the layouts, but each one has
engineering drawings
related to wheeled objects - similar to the green photo matte on the left layout below.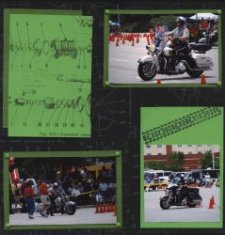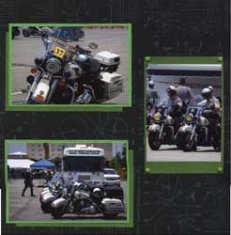 The Police Motorcycle Scrapbook Layouts on these pages were done shortly after receiving the kit using the Assembly Line Scrapbook - ALSB technique that is always provided with the monthly Club Scrap kits. These layouts were actually done without the photos.

Scrapbook-advice.com Tip: It's always nice to have a few layouts already done. I am always more creative just after I return from an event I have photographed and they help to make finishing layouts must faster.

Later, when we went to the event & took the photos, I knew just where they were going and it only took a few fun minutes to finish up the Police Scrapbook Layouts on the very same day as the photos were taken and developed.

Scrapbook-advice.com Tip: Since there are a limited number of Police or Sheriff Scrapbooking Items, try checking out the Law Enforcement offices for your jurisdiction. They may have pins or patches that can also be used on your Police Scrapbook layouts. You may also find some neat stuff at your Harley Davidson Motorcycle shop - I know I have been able to pick up some items suitable for scrapbooking there as well.

Or, check out our store at the bottom of this page.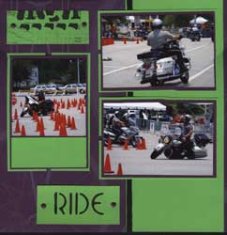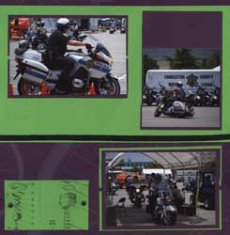 Being able to put the layouts together so soon after the event, made it very easy to add the journaling, as all the events were fresh in our minds. Note: The journaling was added just after scanning these layouts.

Another nice thing about scrapping them so quickly, is that any embellishments you may have collected from the event are not lost or damaged, and there are no piles of photos to sort through and no stress related to un-scrapped items.

Finally, when the creative muses seem to have disappeared, it is always nice to know I can just put together layouts without having to work my brain too hard. That is really playing!


_____________________________________________
Now, if you are looking for some Police Scrapbooking Supplies, check out our Police Scrapbook Store, check below for what we have listed.
Use the scroll bar at the bottom to scroll to the right to see your Amazon Wish List, search for other products, or see product reviews for all your Police Scrapbook Layouts.
When you purchase from this page, you are actually purchasing
from Amazon.com. All orders go through Amazon's secure order server.
If you have any questions, please Contact Us.
Another Police Motorcycle Competition Scrapbook

Check our our page on Military Scrapbooking Albums for a great look at a Police Album for your local hero.

Over 70 Themed & Heritage Scrapbooking Albums for ideas

We also offer some Scrapbook Techniques at Scrapbook Tutorials

10-Step Quick Start Guide Scrapbooking for Beginners

Home Page for General Scrapbook Advice from Police Scrapbook Layouts