Michael Strong Gallery


We are just starting up our Michael Strong Gallery and we wanted to do a special one for you to post your Cards and Layouts which use the Michael Strong Cloisonne Collection.

These versatile stamps are designed in such a way that they can be cut apart and the pieces can be used in various ways.


What can I say? These are just my all time favorites!
Check out this first video I saw of Michael using his stamps in a very creative way.
You can be any level of crafter to participate in these postings. We want to see your work and our readers do top - inspiration for scrapbook & card advice comes from everywhere.
Win a Set of Michael Strong Cloisonne Stamps
Two weeks after we have received our 15th entry in the Michael Strong Gallery - giving readers, your friends and relatives a chance to vote - we will send the winner a set of Michael's Cloisonne Stamps of your own. If you already have the set we were planning to send, we will let you choose any set that is currently available.
Don't worry if you are a newbie at Card making, we still want to see your beautiful art work. We want to inspire our readers at all levels with interesting or beautiful ways you have used Michaels stamps.
Maybe you have used some of Michael's stamps on a scrapbook page as an accent or embellishment. Perhaps you have used his
Punch & Spell Alphabets or Numbers
for a Title or Date on your Scrapbook Page. We'd like to see that as well.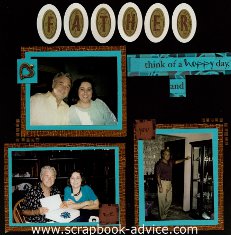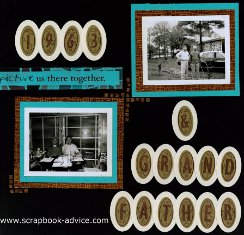 Here is my use of the Punch & Spell letters and numbers. I found these old photos of my Dad and Grandfather a few months ago. Some of them were from as early on as 1963 when we first moved into this house.

The papers used were from the Club Scrap kit from September 2010 called Adobe. Since I had some black & white photos, I used black for the background and accented with Turquoise (from my blouse) and the mosaic embossed copper paper, square copper tiles, and copper hearts from the Adobe Kit.

I stamped the Michael Strong Cloisonne Letters on a tan paper, embossed with Copper Kettle Embossing Powder from Michael's Web site to go with the Copper Paper and Embellishments. Then I punched out a matte for each letter with my Oval 1 1/2 inch punch and layered them to make the Titles for these pages.(Links for these products are at the bottom of the page.)




Upload Form for Readers to post
Michael Strong Gallery


Show us your cards made using Michael Strong's Cloisonne Collection of Rubber Stamps.



What Other Visitors Have Said
Click below to see contributions from other visitors to this page...

Michael Strong Readers Gallery

These cards were made at the Club Scrap retreat in August 2010. Michael Strong taught this class and these were his designs. For the card bases, we …
Michael Strong Cloisonne Stamp Catalog

Michael Strong Cloisonne Vase Images

Go back to Rubber Stamping

Check out Club Scrap

Go Back to Home page for Scrapbook Advice
from the Michael Strong Gallery