Heartfelt Creations Stamps
and matching SpellBinders Images

I recently attended a show where I discovered the beautiful Heartfelt
Creations Stamps and coordinating Spellbinders Die Cuts.
Their beautiful and elaborate Rubber Stamps were some of the
prettiest I have seen and when put together with their
Matching Dies from Spellbinders,
you can make some of the most stunning cards, scrapbook pages and
paper crafting items very easily and quickly.

I went to the show in the Fall, so the first of their stamps I purchased were
Fall and Thanksgiving related. I am a lover of leaves in all shapes
and colors so I picked up these stamp sets from the Autumn Splendor Collection.

Autumn Splendor Collection
They are certainly appropriately named Splendor. First was the Oak Leaf
Background (4 1/2" x 6") HCPC 3332. Please note: to protect
the images from Heartfelt Creations, I have downloaded the watermarked images
to protect their copyrights. I have only loaded the images of
actual Heartfelt Creations Stamps and Heartfelt Creations
Spellbinders Dies that I have purchased.

The Swirly Autumn Leaves Set HCPC 33258 with a beautiful leaf and
scroll design (5 1/2" x 3") with Thanks captions,



and the Open Falling Leaves Pre-Cut Set HCPC 3334 of 3 large (2", 2 1/2"
and 3") and 3 small individual leaves (1" to 1 1/2").



I made a number of Stunning & Elegant Thanksgiving Cards with these.


Cardinal Family Collection

I also picked up Heartfelt Creations Cardinal Pine Cone Border Pre-Cut Set
HCPC 3348 which came with 4 captions: "on your Birthday",
"on your special day", "With love from all of us" and "at Christmas".
The border stamp is 6 1/2" wide x 2 1/2" tall, so it will fit across even
the largest cards.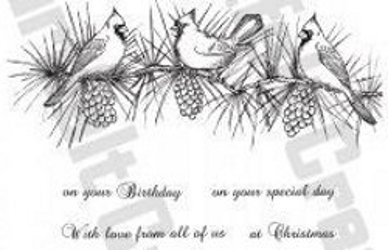 To go with that I picked up the Large Cardinal Pine Bough Pre-Cut Set
HCPC 3350 at 5 3/4" by 4 1/2", certainly large enough to cover the
front of any large or long card.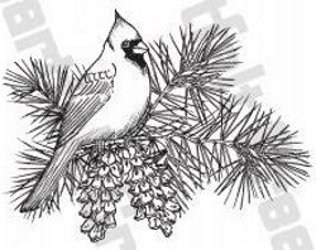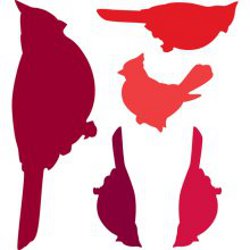 After using the Cardinals stamp, I can Die Cut a Cardinal the same size,
re-stamp the cardinal itself, and layer the die cut cardinal in red, on
top of the original stamp to give it some depth.


Holly Berry Collection
To accent both of the above, I already had a Pine Cone and Pine Bough, but I
also purchased a Holly Berry Filler Pre-Cut Set HCPC 3326 which
has some holly leaves, berries, pine boughs and pine cones stamps as well.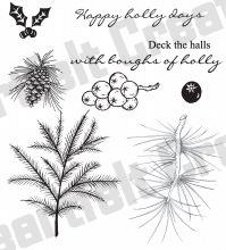 Christmas Collection
The following month, I picked up some more Heartfelt Creations stamps
for my Christmas holiday cards and scrapbook pages. These included
a beautiful Joy HCPC 2123 (3 1/2" by 4 3/4") with holly
leaves, berries and scroll-work and captions of "Merry
Christmas" and "Handmade by."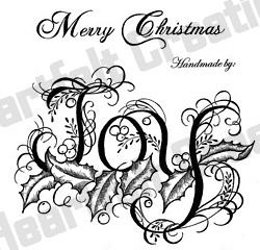 I also fell in love with this Large Snowy Winter Background Pre-Cut Set
HCPC 3426 with a large scroll work, with snowflakes intertwined
around the words: "It came upon a Midnight Clear, that Glorious
Song of old."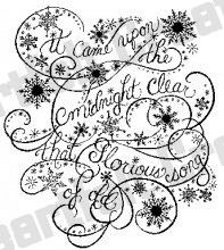 The Holiday Poinsettia Candle Pre-Cut Set HCPC 3419 which included a
Candle with Poinsettia and greenery, Merry Christmas in another font,
and a Music Sheet with "Silent Night, Holy Night."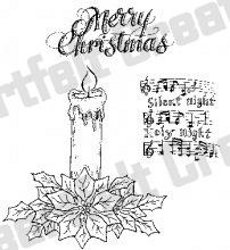 Then I found these 3 Poinsettia Ornaments Pre-Cut Set 2 HCPC 3417 which
go with the Spellbinders 2011 Heirloom Ornament Nestabilities so
I can stamp my ornaments, emboss them with heat activated embossing powder,
then cut out around the ornaments using the Ornament Nestabilities, for
an awesome card or scrapbooking element or embellishment. The 3 ornaments
range in sizes from 3 1/2" to 2 1/2" and 1 1/2"

There is also a matching Poinsettia Ornament Pre-Cut Set 1 which is
larger at 4 3/4'.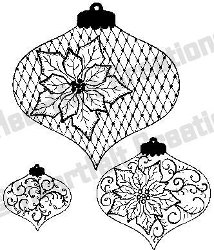 Here are the Spellbinders Ornament Nestabilities that match these Stamps.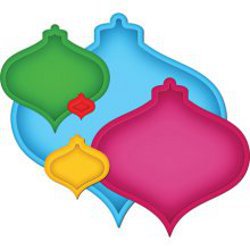 In addition, I found The Shepherd Scene HCPC 3430 with "Oh Holy Night"
and "Jesus is the reason for the season",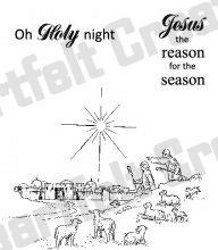 the Holiday Dove Set HCPC 3420 with the scroll work and dove with
poinsettia images,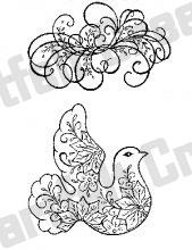 plus a full page of stamps including another Dove, more scroll work, more
sayings, another ornament image and a frosty, snowy window background.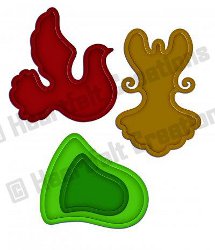 Here are some more of the Heartfelt Creations Spellbinders Dies
that go with other Heartfelt Creations Stamps, in this case the
Dove matches the stamp image shown just above it.

These will coordinate with all the above Heartfelt Creations Stamps
to round out what I consider a huge selection of Card Making and
Scrapbooking images that are elegant and beautiful that I
will be able to use for years to come for myself and others.



Check out the Heartfelt Creations Store below to see if there is
something there that you might be interested in purchasing. There
are lots more than the few I have shown here.

It's free to look.

These stamps are deeply etched, make great images, and are already mounted
on EZ-Mount Foam and ready to play with. I am sure you will be pleased
with your purchases from Heartfelt Creations.



Use the scroll bar at the bottom of the box to scroll to the right and see
your Amazon Wish List; search for other product categories like Spellbinders
Die Cuts to go with the Heartfelt Creations Stamps; or see product reviews.





When you purchase from this page, you are actually purchasing from
Amazon.com. All orders go through Amazon's secure order server.


If you have any questions, please
Check out our Rubber Stamping Tutorials & other Stamping information

Go back to Home Page for general Scrapbook Advice
from Heartfelt Creations Stamps