Firefighters Layout Gallery
by our Readers
The Scrapbook-advice.com Firefighters layout Gallery is here to allow our readers to posting your scrapbook layouts about your own personal Firefighter Hero.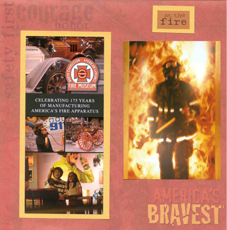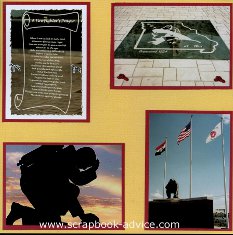 The layout on the right has a photo of the Firefighters Prayer that is part of The Fire Fighters Memorial of Missouri. It's a simple layout, and while it does not honor one specific Firefighter, it does recognize that they are dedicated to their profession and some have paid the ultimate price.


You will post your layout using the form below.
You can enter up to 4 images with each form.
Please tell us in the description area, why you did your layout and a little about your Hero.
Then we would like to know what items you used for your layout (if you can remember) and maybe where you got them. Did you purchase your embellishments, or make them yourself?
Once you have submitted your layout to our Firefighters Gallery, our moderator will approve your layout and comments, and set up a page on the scrapbook-advice.com website. You will then receive an email with a link to that page.
Send that link to your friends and family and have them vote on your layout with comments. After the first 10 layouts have been posted, we will wait 2 weeks for the comments and votes to be recorded, then we will award a prize for the winner which will either be scrapbook product or a gift card. (The winner will eventually have to provide a snail mail address.)
We have no one special to honor, but would certainly like to show our readers some of your wonderful pages and ideas for honoring those special ones among us.
Don't be shy if you are a beginner. We were all beginners at one time.
Post Your Firefighter Scrapbook Layouts
Show us your personal tribute to honor the service of your special Firefighter Hero.

Whether its a Scrapbook Layout or a card with a Firefighter theme, we'd love to showcase it on our website www.scrapbook-advice.com.
Check out our Firefighter Scrapbook Supplies

Check out some Firefighter Scrapbook Layouts

Go back to Home Page for Scrapbook Advice from Firefighters Layout Gallery