Book of Me Scrapbook Layouts
February Challenge - Love
With February being the Month of Love, we are concentrating the Book of Me Scrapbook Layouts Challenge about just that - Love.
Option #1 - The LOVE of my LIFE
- This may be quite different for each of us – a spouse, a boyfriend, a child, a pet. Let this layout focus on this special one. How do you feel about him/her? What are his/her lovable characteristics? How did the two of you meet? If you don't have a "love of my life" right now, do a layout on your "ideal" love. (Note: We will soon be doing layouts about our families/children, so don't do this one on them, unless your child is the "love of your life." (Focus on the feeling of LOVE.)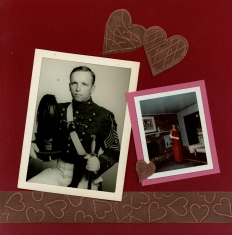 ----------------------------------------
Option #2 - LOVING WORDS
- Is there a romantic song that says exactly how you feel about someone, or about love itself? Perhaps a poem, quote, or Bible verse sums it all up for you. Create a layout featuring these words.
Layout Ideas: No photos? That's OK, journaling only is just fine.


----------------------------------------
Option #3 - LESSONS on LOVE
- Many of us are hoping our loved ones will read our books to learn more about us. What about a page sharing what we've learned about love, promises, marriage, and commitment? Share your insights on how "fairy tale" love differs from "real life" love.
Book of Me Scrapbook Layouts - March Challenge - Top Ten

or the January Challenge - Who Are You?

Book of Me Scrapbook Layouts - All Layout Challenges

Check out our Themed & Heritage Scrapbooking

Try some new Scrapbook Tutorials

or leave for Home Page for general Scrapbook Advice