A-B-C Scrapbooks?
What are these?


Essentially, A-B-C Scrapbooks are books that the layouts have titles that begin with each letter of the Alphabet.

A shortened version may be to do layouts about someone's name with a page title beginning with each letter in the name.


A-B-C Tags for a Layout
You can try to do an entire set of A-B-C Scrapbook layouts or instead, like we did here in these layouts below, we used the idea with these
Alphabet tags
just to spell out the beautiful Dog's Name - Windy.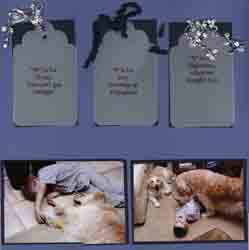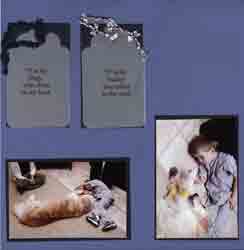 Windy relaxing with one of her favorite family members.
Materials Used: These two Canine Assistant Scrapbook Layouts used a medium blue "Bling" card stock for the background along with a Navy Blue Metallic Plan paper from the Club Scrap Sparkle kit from December 2007. The tags are Vellum Alphabet Tags for Dogs from Keller's Creations matted with the Navy Blue Metallic and attached with navy and white fibers from the Sparkle kit.
The Tags spell out Windy's name.
"W" is for water, you can't get enough"
"I" is for Icky, cleaning up your mess"
"N" is for Nighttime, when we snuggle, too"
"D" is for Dogs who chew on my boot"
"Y" is for Yucky! You rolled in the mud"
This can be a difficult topic to do layouts for but this would be great for a very personalized child's book since it could be associated with
learning the Alphabet.
Keller's Creations
offers sets of these beautiful, pre-written tags for various Alphabet Lists and here is a link to their page called -
ABC Vellum Tag and Strip Kits.
Here is another link to
Denny's Poems & Quotes where they have posted extensive A-B-C lists you can use to jumpstart the thought process.
Denny's Lists are by topic: Boy, Girl, Scrapbooking, Travel, Gardening, Games, Travel, Football - to name a few. If you can't find what you like there, click on her Master List, which lists a bunch of words by letter so you can fill in your own lists with a little assistance.
Embellishments
Aside from the lists, you can use
Rubber Stamp, Stencil or Sticker letters to decorate your pages
with the various letters in an abstract pattern across the background paper in various types of fonts. These letters could also be stenciled on the background paper in inks or chalks.
Paper
Club Scrap who provides
Monthly Scrapbooking kits
has the scrapbook paper available for each letter of the alphabet. These have been great for doing individual
A-B-C Scrapbook Titles
using the main letter as the first letter of the Titles.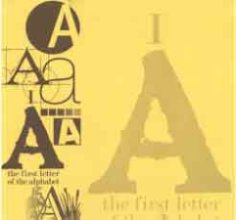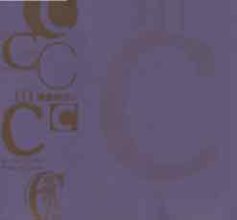 In addition to the paper, they also have unmounted rubber stamp sets with individual letters to match all of the specific fonts on these papers. They are at ClubScrap.com.




A-B-C Titles
When I ran out of pages with a certain letter, I used the unmounted rubber stamps to stamp my own paper and
A-B-C Titles.
Each letter of the Club Scrap sets come in several different fonts.
A-B-C Journaling
Following along this theme, you can also do A-B-C Scrapbook Journaling. This is always fun, to spell out the first or last name of the person you are doing the layout about.
Or you can use the
A-B-C Journaling
to spell out the title of a
favorite song,
a book, a
Holiday,
the word
Birthday
or the number of
years,
the word
Retirement
for a Party, or the word
Anniversary.
For a Wedding, you could do the first or last names of the bride and groom and even use the
format of a crossword puzzle
if the names contain letters that are the same. Adoption and Birth are another occasion to use "letter and word" games - how you decided on a name, what the name means, and incorporate the decision process into the Alphabet Journaling.
Basically you can do A-B-C Scrapbook Journaling using just about any word or occasion you can think of - then you just have to think of the phrases.
A-B-C Scrapbooks
Check out our A-B-C Scrapbook selection of books to help you get this accomplished. The book below,
Cut Loose,
will give you some great ideas for your A-B-C Scrapbooking in a new way that will make your pages more interesting. Click on it to get a full explanation of the book and review by owners. Both the regular
paper back and Kindle versions
are available.
10 Step Quick Start Guide for Scrapbooking for Beginners

Over 70 Themed & Heritage Scrapbooking Ideas

Scrapbook Tutorials & Techniques

A-B-C Scrapbooks links to Home Page and general Scrapbook Advice